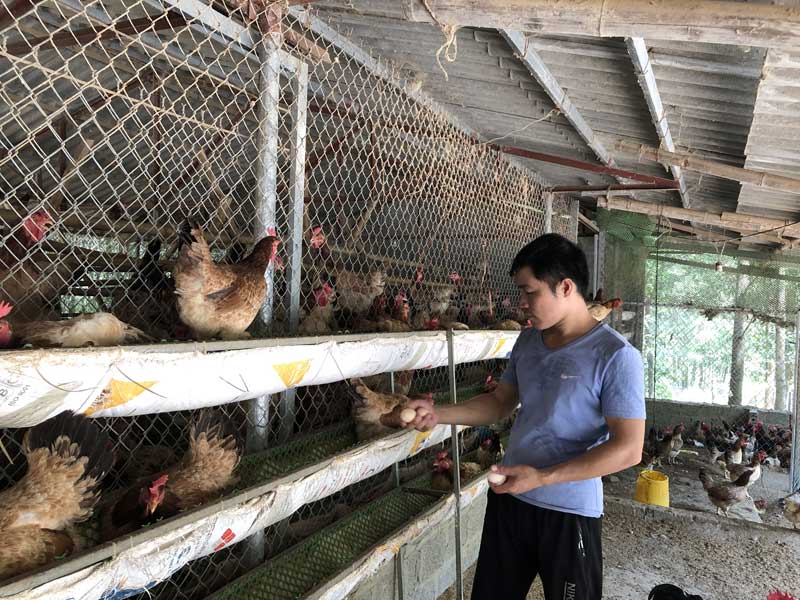 (HBO) - The effective implementation of resolutions, mechanisms and policies of the provincial Party Committee and People's Committee regarding agriculture and rural development has created a momentum for local agricultural products to establish their position in the domestic market, towards export. The productivity, quality and economic value of these products have been improved rapidly, and production areas have been formed with high added values. The sector is expected to grow 5.6 percent this year, earning 140 million VND per ha.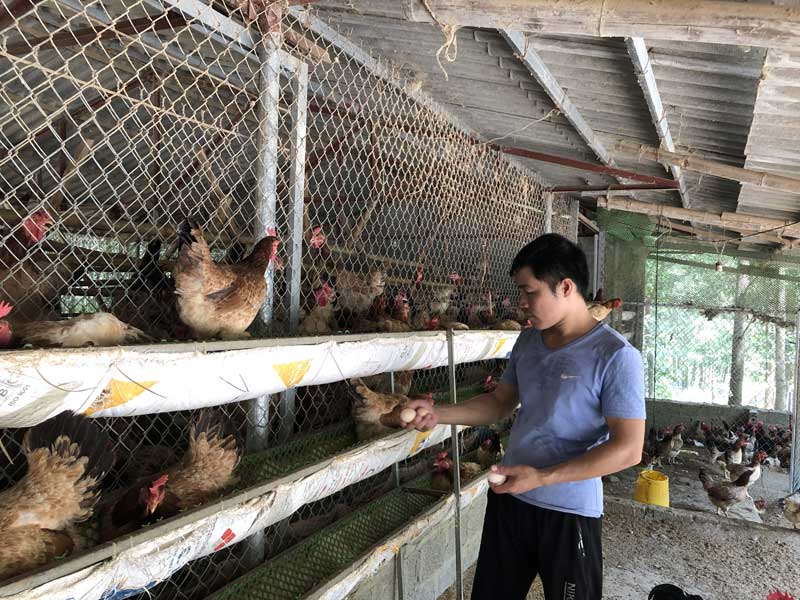 To preserve and promote the brand of "Lac Thuy chicken," local farmers have invested in large-scale coops. This photo was taken in Dong Noi village, Dong Tam commune, Lac Thuy district.
Vuong Dac Hung, Deputy Director of the provincial Department of Agriculture and Rural Development, said on the basis of potential and advantages of each locality, Hoa Binh province has defined its major products, comprising citrus, sugarcane, vegetables and bean; buffalo, cow, pig, goat and poultry; and caged fish in Hoa Binh Lake.
The provincial Party Committee has issued a number of important resolutions to orient the sustainable development of these products. On the basis of the resolutions, the People's Committee has adopted many mechanisms and policies on the implementation work.
The provincial Department of Agriculture and Rural Development has also coordinated with other departments and agencies to organise festivals and fairs in and outside the province to promote local products. The development of key agricultural products has gone in tandem with the national target programme on new-style rural area building and the One Commune-One Product (OCOP) programme.
A number of local fruits like Cao Phong and Lac Thuy oranges, and Tan Lac and Muong Dong pomelos (Kim Boi district) have established their prestige in the domestic market thanks to their appearance and quality.
The province now has nearly 12,000ha of citrus, of which about 20 percent are cultivated follow VietGAP standards. Hoa Binh expects to harvest 190,000 tonnes of the fruits this year, and earn from 450-500 million VND/ha/crop. Thanks to scientific-technological applications, many households and cooperatives have raked in up to 800 million VND/ha/crop.
Apart from cultivation, the husbandry sector also grows 6.38 percent annually. Currently, Hoa Binh counts 116,200 buffalos, 84,700 cows, 418,800 pigs, 52,000 goats and 7.7 million heads of poultry. The sector is shifting towards large-scale farms connected in value chains.
In addition, the locality has paid attention to preserving and developing indigenous varieties such as Da Bac pig, and Lac Thuy and Lac Son chickens that have won OCOP certificates granted by the province in 2019.
Nguyen Minh Duc, head of the Minh Duc Cooperative in Phu Thanh Commune, Lac Thuy district, said with the aim of preserving and developing the Lac Thuy chicken brand, seven members of the cooperatives have worked hard to apply science-technology in husbandry. Each year, the cooperative provides about 10,000 chickens for meat and tens of thousands of chicks, and creates stable jobs for eight labourers, each with a monthly average income of 6 million VND.
In fishery, the province has focused on cage fish farming. After receiving brand certificates in 2018, shrimp and fish raised in Da River have found it easier to approach major markets. Cooperatives and businesses have made efforts to promote the products in big markets and food stores. In 2020, Hoa Binh counts 4,700 fish cages, up 2,380 cages as compared with 2015. There are 14 caged fish raising facilities, which have 1,067 cages and an output of 2,138 tonnes, granted with VietGap certificates.
Most of local agricultural products have won three-star and four-star OCOP status. Some of them like sugarcane, orange and banana have found their way abroad. Cao Phong orange and Viba banana have been served on flights of Vietnam Airlines./.