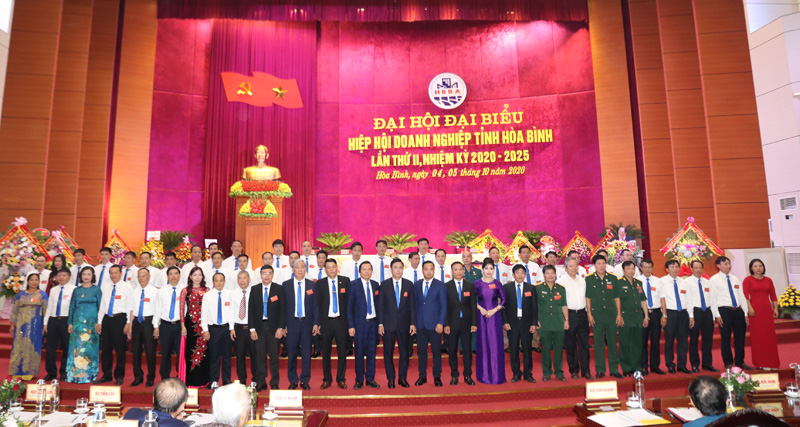 (HBO) - The second Congress of the Business Association of Hoa Binh province for the 2020 – 2025 tenure recently took place at the provincial Culture Palace.
The association now has 17 chapters in all districts and city with over 700 members. The number of enterprises and businesspeople has grown in both quantity and quality, increasingly affirming their stature in local socio-economic development. During the 2016-2019 period and the six months of 2020, the province recorded 1,586 newly-established firms, or a 1.21 fold-increase from the 2011-2015 period.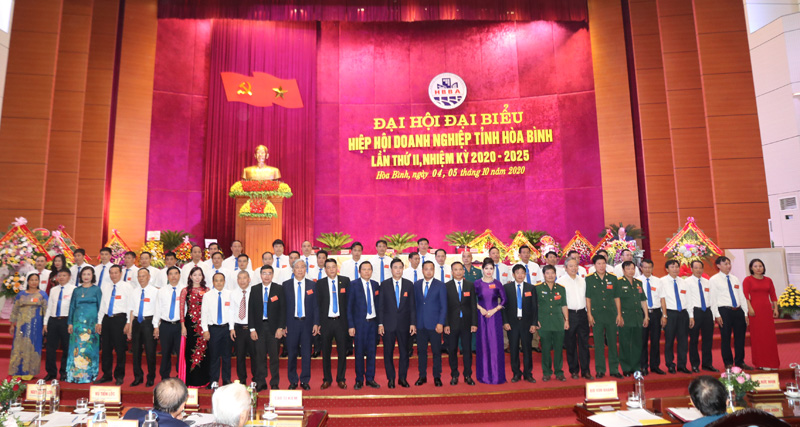 The executive board of the provincial Business Association for the second tenure debuts.
The congress elected an executive board for the 2020-2025 tenure with 65 members. Nguyen Cao Son was re-elected as chairman of the association and 10 others were voted as deputy chairpersons. Secretary of the provincial Party Committee Ngo Van Tuan was elected its Honorary Chairman.
Speaking at the event, Chairman of the provincial People's Committee Bui Van Khanh spoke highly of the association's role with contributions to the successful implementation of the Resolution adopted by the 16th provincial Party Congress.
Looking into difficulties and challenges amid intensive and extensive integration, he stressed that the Resolution set the target of having 2,500 more firms and cooperatives, nearly 5,000 effective companies and cooperatives during the 2021-2025 period, nearly doubling from that in 2020. The State budget revenue is expected to reach 10 trillion VND by 2025.
President of the Vietnam Chamber of Commerce and Industry (VCCI) Vu Tien Loc and Chairman of the Vietnam Association of Small and Medium-Sized Enterprises Nguyen Van Than lauded the association's contributions to local socio-economic development.
Stressing that it was a congress of action-minded people, Loc asked local firms to offer suggestions to local leaders to create a safe business environment meeting international standards. The association was required to protect legitimate interests of each firm and restore their trust. The province was also urged to effectively build policies and action plans to remove difficulties faced by firms in the near future./.