(HBO) – Hoa Binh applied the District and Department Competitiveness Index (DDCI) on a trial basis last year. DDCI is used to measure the satisfaction level of enterprises, cooperatives and household businesses with the way the ten districts and city of the northern province and its 26 departments govern the local economy and improve business climate.
It was expected to help the province find measures to raise its annual Provincial Competitiveness Index (PCI) ranking and seek solutions for existing problems and limitations.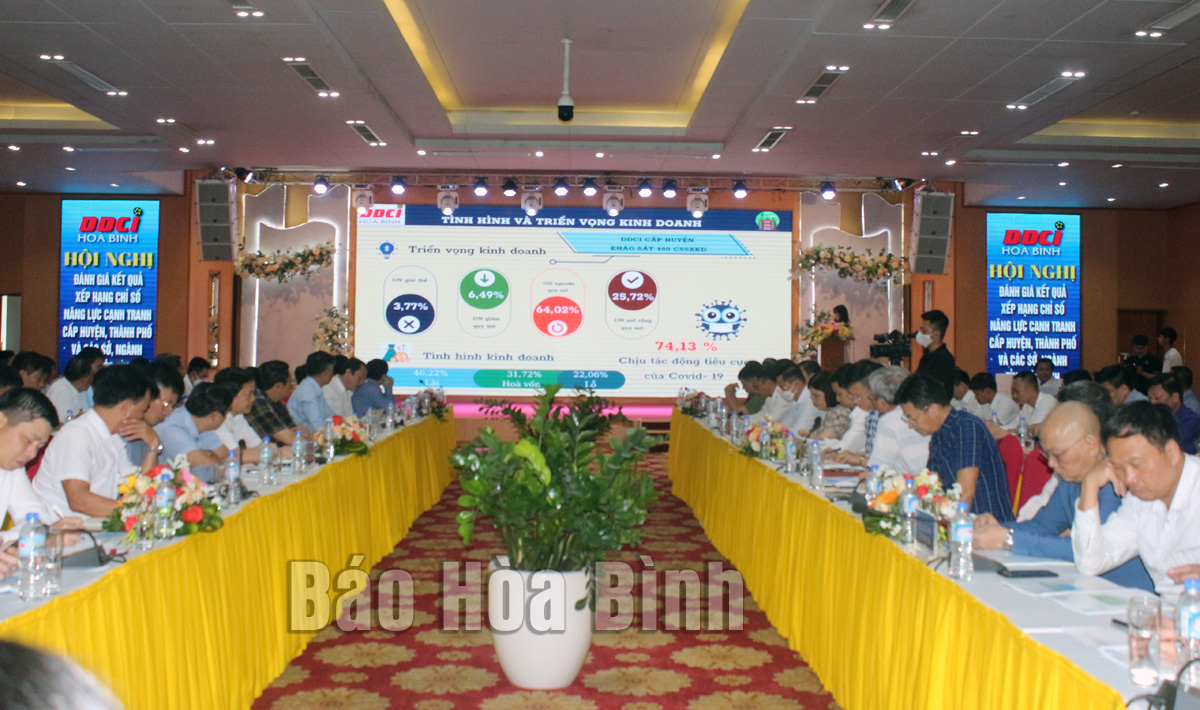 The Hoa Binh People's Committee holds a conference to review the results of DDCI in 2021.
Nine DDCI indicators were used to measure the economic governance of district governments, namely market entry, information transparency and fair treatment, quality of public services and district one-stop-shop section, dynamism of district leadership, informal costs, business support services, costs for completing public administrative procedures and adherence to regulations, public order and security in support of a safe business environment, and accessibility to land and business premise.
The governance of provincial departments was surveyed based on eight indicators, which are the same as the above mentioned ones except for accessibility to land and business premise.
The index was measured based on a survey of 1,000 enterprises, cooperatives and household businesses conducted by an independent consultation firm.
According to Ha Trung Nguyen, Vice Chairman of the provincial People's Council, the survey found that 67.21 percent of the respondents said there was an improvement in the quality of local governance in business and production. However, 41.9 percent of them said the improvement was made but at a slow pace.
Regarding the district competitiveness, the best performer was Yen Thuy district (89 points). Those with average scores were Da Bac, Hoa Binh City, Mai Chau, Lac Son, Kim Boi, Luong Son, Tan Lac and Cao Phong. Scoring 67.83 points, Lac Thu became the worst performer last year.
Among the departments, the provincial Department of Investment and Planning led the rankings with 79.39 points, followed by the Department of Environment and Natural Resources, and the Department of Agriculture and Rural Development.
In a recent conference held to review the pilot DDCI, Chairman of the provincial People's Committee Bui Van Khanh asked the Department of Investment and Planning to urgently make a proposal for the official use of the DDCI this year./.