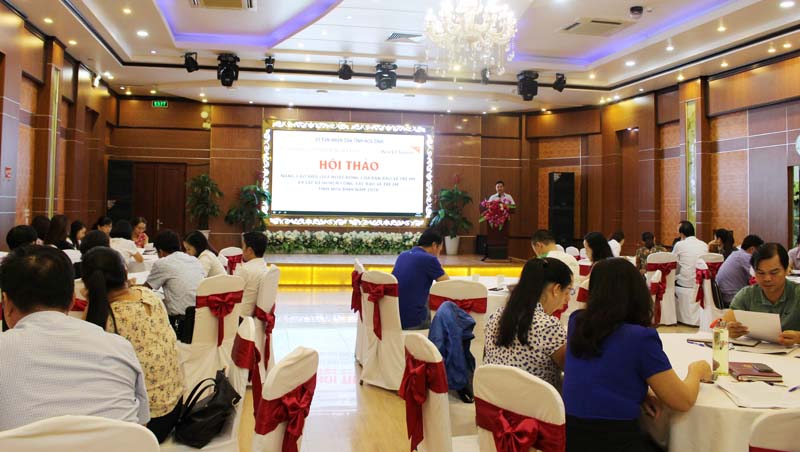 (HBO) - The provincial Department of Labor, War Invalids and Social Affairs has collaborated with the World Vision in Vietnam to organize a Workshop to improve the effectiveness of the Child Protection Committee and to prepare a plan on the Provincial Child Protection in 2020. There are 76 representatives from 11 districts and the city, the Head and the Management staff of 8 project communes in 4 districts including Mai Chau, Lac Son, Yen Thuy and Da Bac attending the workshop.
Currently, there are over 221,159 children, in which there are 2,393 children in special circumstances and up to 2,114 children in special circumstances who are supported. 36,402 children are in risk of falling into special circumstances. In the first 6 months of 2019, 14 cases of child abuse have occurred in the whole province.
At the seminar, the delegates have shared the results of the activities of the Child Protection Division at all levels. The results of providing child protection services are according to 3 levels. There are advantages and dis advantages in the operation of the Child Protection Committee at all levels. Accordingly, the delegates have agreed to propose the solutions to improve the effectiveness of the Child Protection Committee and to develop a plan on the provincial child protection in 2020.
The workshop is aimed at the equality in terms of comprehensive development in a safe, healthy and friendly environment off all in general. For children with special circumstances are given timely support and care so that they can have the development opportunities. They have been promoting the propaganda and raising the awareness about child protection. At the same time, it is expected that all children are protected from abuse, violence or exploitation of labor.