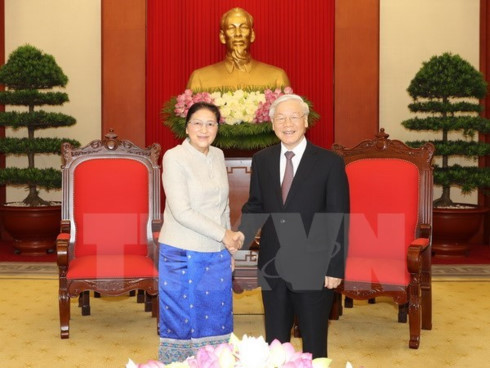 Party General Secretary Nguyen Phu Trong has asked the National Assemblies of Vietnam and Laos as well as their committees to enhance cooperation, especially in sharing experience in making laws, supervising and making decisions on important issues.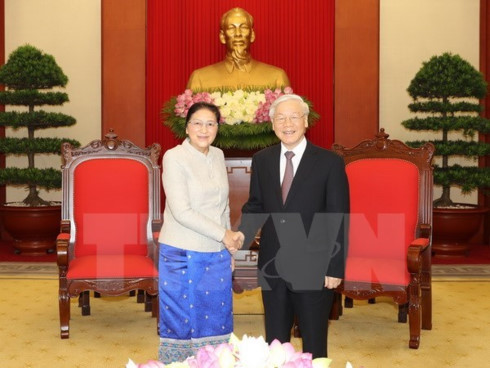 Party General Secretary Nguyen Phu Trong (R) and Lao NA Chairwoman Pany Yathotou
During a reception for the Lao NA Chairwoman Pany Yathotou in Hanoi on July 8, the Party chief suggested the two legislative bodies direct ministries, sectors, localities and businesses of the two nations to implement Vietnam-Laos joint statements, agreements reached by leaders of the two Parties and States, and other cooperative programmes.

While appreciating the cooperative ties between the two legislatures, he urged the two sides to work closely in organising activities celebrating the Vietnam-Laos Solidarity and Friendship Year 2017, and educating people from all walks of life, especially youths, on the special solidarity and comprehensive between the two nations.

For her part, the Lao top legislator congratulated Vietnam on its recent achievements, believing that under the leadership of the Communist Party off Vietnam, Vietnamese people will continue gaining new and greater achievements during the country's Doi moi (renewal) process.

She briefed the guest on her country's development and outcomes of the talks between the two legislatures, as well as their cooperation in recent time, affirming that the Lao NA will closely coordinate with its Vietnamese counterpart to effectively perform agreements reached between the two nations' leaders.

The hosted and the guest expressed their joy at achievements made by the two Parties and States, and the flourishing development of the bilateral ties across fields, saying that those significantly contributed to national construction and defence of both sides.

They affirmed their determination to maintain, nurture and promote the bilateral relations in the future.

Later the same day, Pany Yathotou left Hanoi, wrapping her four-day visit to Vietnam to attend activities celebrating the 55th anniversary of the Vietnam-Laos diplomatic ties and 40 years of the signing of the Vietnam-Laos Amity and Cooperation Treaty in the northern mountainous province of Son La.
During her stay, she had working session with officials of Son La, and met with Lao students studying in the locality.

The Lao top legislator and her Vietnamese counterpart Nguyen Thi Kim Ngan co-chaired a workshop on the role of people's councils in making decisions and supervising land issues on July 7.

She also attended the opening ceremony of the second culture, sports and tourism festival of the Vietnam-Laos border areas, the inauguration ceremony of the Vietnam-Laos revolutionary historical relic site, and joined various other activities in Son La province.

Previously in Hanoi, the Lao delegation led by Pany Yathotou paid tribute to President Ho Chi Minh City at his mausoleum.
Source: VOV