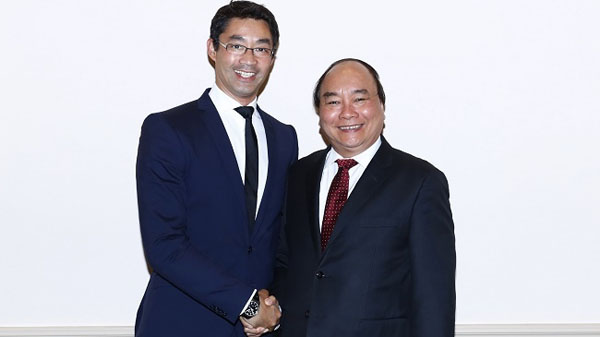 PM Nguyen Xuan Phuc (right) and WEF Managing Director Philipp Roesler.
During his reception for WEF Managing Director Philipp Roesler, in The Hague, Netherlands, on July 11 (Vietnamese time), the PM spoke highly of the WEF official's active contributions to facilitating the cooperation between Vietnam and the WEF, whilst asking him to encourage the WEF and European enterprises to expand their investment and business ties with Vietnam, in order to make use of the opportunities brought about by the Vietnam-European Union FTA (EVFTA).
He proposed that the WEF coordinate with Vietnam to select the topics and contents, as well as to renovate the organisation methods, in order to strengthen the effectiveness and meaning of the WEF on ASEAN 2018, to be held in Vietnam.
PM Phuc welcomed and thanked Philipp Roesler for accepting the invitation to attend the APEC CEO Summit 2017, scheduled to take place this November, in the central coastal Vietnamese city of Da Nang.
For his part, Philipp Roesler emphasized that the WEF always treasures its ties with Vietnam, whilst highly appreciating the country's position and development potential, as well as the efforts made by the Vietnamese Government to improve the domestic business climate.
He affirmed the WEF's close coordination in effectively executing its cooperation agreement with Vietnam, as well as cooperating in preparation for the WEF-ASEAN 2018 which will take place in the country.
The WEF managing director also pledged to continue sharing experience and promoting cooperation in advertising the Vietnamese economy, in addition to supporting the country to strengthen its competitiveness and boost international integration.
On behalf of the WEF Founder and Executive Chairman, Philipp Roesler invited PM Nguyen Xuan Phuc to attend the WEF Annual Meeting in Davos, Switzerland, in January 2018.