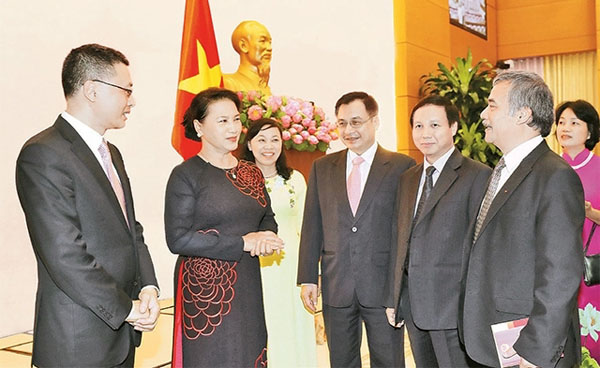 NA Chairwoman Nguyen Thi Kim Ngan and the delegates (Credit: VNA)
Speaking at the function, NA Chair Ngan spoke highly of the diplomatic sector's significant achievements and contributions to firmly safeguarding national sovereignty and security while maintaining a peaceful and stable environment to facilitate national socio-economic development, and raising Vietnam's role and position internationally.
She asked the diplomats to remain updated on the situation in order to make proper solutions to address any obstacles in bilateral diplomatic, economics and political relations.
They were also requested to work closely with domestic agencies and organisations in promoting Vietnam's potentials and advantages to attract more foreign investment to the country.
She noted that as the East Sea situation has seen complicated and unpredictable developments, which have posed huge challenges to Vietnam's efforts in maintaining peace and stability, the ambassadors and heads of Vietnam's overseas representative offices must make further efforts to combat false allegations on the issue and draw support from foreign countries and the international community.
They should also be active in supporting Vietnamese citizens and overseas Vietnamese in the host countries, she added.
Regarding distorted information on Vietnam's human rights issues, she called on the diplomats to popularise the Party's guidelines and State's policies and laws on the issues to the international community.
She expressed her belief that the ambassadors and heads of Vietnam's overseas representative offices would continue promoting the sector's fine tradition of fulfilling all assigned tasks.