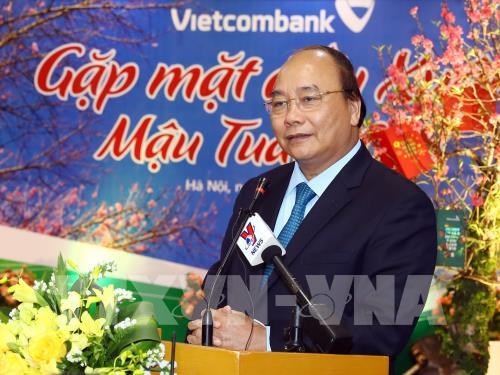 Prime Minister Nguyen Xuan Phuc lauded Vietinbank and Vietcombank for their business performance last year and encouraged them to make greater efforts to contribute to the fulfillment of Vietnam's socio-economic development.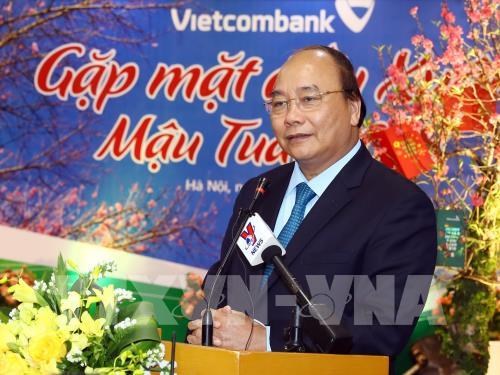 Prime Minister Nguyen Xuan Phuc speaks in a meeting with Vietcombank staff on the occasion of the Vietnamese New Year. (Photo: VNA)
The leader made the statements during visits to the headquarters of Vietinbank and Vietcombank, the two largest Vietnamese commercial banks, in Hanoi on February 21 to wish their employees a Happy Lunar New Year.

The PM extended greetings to 24,000 Vietinbank employees in an event live-streamed in 155 branches of the bank nationwide.

Phuc lauded Vietinbank's successful equitisation, the growth of its technology-based banking services and its efforts to manage bad debts and improve management efficiency. He also mentioned the bank as a credit provider for the country's key projects, backing the government to achieve its goals.

He asked the bank to improve its competiveness by building financial and management capacity to international standards. Vietinbank should adopt solutions to improve and control credit quality; strengthen bad debt management; and continue stepping up administrative reform to provide start-ups and investors easier access to loans, he said.

Later the same day, the PM met with Vietcombank staff on the occasion of the Vietnamese New Year, during which he praised the bank's corporate culture.

Vietcombank led in complying with the government's policies, Phuc noted, adding that the bank is offering the market's lowest lending interest rates though it has not reduced deposit interest rates.

In a short time, Vietcombank's total assets exceeded 1 quadrillion VND (44 billion USD) and its ratio of non-performing loans was down to 1.1 percent, the lowest among domestic credit institutions. The bank is also the first of its kind in Vietnam to exceed 10 trillion VND in profit, Phuc said.

He asked Vietcombank to broaden its vision to become a regional bank in Asia and to expand its size and branches to narrow gaps with large banks in the region.

He also suggested the bank develop banking technology and catch up with new technological trends, particularly in information security and safety.

In 2017, VietinBank earned a total profit of 9.2 trillion VND (404 million USD), 105 percent of its annual target.

The bank's total assets notched a year-on-year surge of 15.3 percent to exceed 1.1 quadrillion VND (48.4 billion USD), making it one of Vietnam's three largest banks in terms of assets and the country's second-largest bank in terms of profit, after Vietcombank.

Its outstanding loans reached 839 trillion VND (over 36.9 billion USD), up 18 percent year on year.

Meanwhile, Vietcombank reported pre-tax profit of more than 11 trillion VND (482.5 million USD) last year.

This was a record pre-tax profit achieved by a Vietnamese bank, representing a rise of 32.9 percent during the same period in the previous year and 16 percent higher than Vietcombank's target.

Total deposits amounted to 889.7 trillion VND (over 39.1 billion USD), up 38.7 percent year on year and 18 percent above set target.

Outstanding loans reached 553 trillion VND (24.33 billion USD), an increase of 17.2 percent.
Source: VNA