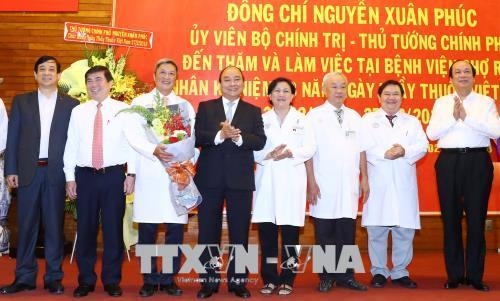 Prime Minister Nguyen Xuan Phuc with doctors of Cho Ray Hospital (Photo: VNA)
The Government leader lauded the achievements of medical staff, whose efforts have been highly regarded by the people and officials in the region.
Over the past years, Cho Ray Hospital has provided examinations and treatment for over two million patients, while training thousands of doctors at home and abroad, transferring technologies to medical units, building satellite hospitals, and conducting many scientific research projects.
It also developed social activities to help poor patients, improved services, and opened the new tumor centre.
Cho Ray is also one of the first hospitals in Vietnam to conduct organ transplants, making significant contributions to the country's health development.
In addition to providing medical check-ups and treatment for the southern cities and provinces, the centrally-run hospital also serves as a scientific research centre and has carried out a number of international joint projects in medicine.