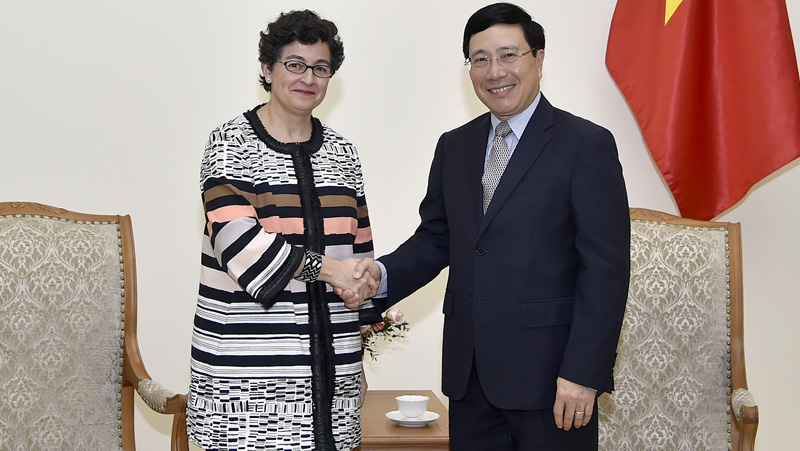 Deputy Prime Minister and Foreign Minister Pham Binh Minh (R) welcomes ITC Executive Director Arancha González (Photo: MOFA)
The Deputy PM made the remark in Hanoi on February 27 at a reception for ITC Executive Director Arancha González, who is on a working visit to Vietnam from February 26-28.
As most of small- and medium-sized enterprises (SMEs) in Vietnam, which account for around 97% of firms in the country, have found it difficult to approach information about the international market, he called on the ITC to form information channels to facilitate Vietnamese businesses' access to market information and help them make more effective business decisions.
He also hoped that the ITC would give consultancy to help the Vietnamese Government build a strategy to support its enterprises in taking part in the global supply and value chains.
Touching upon the European Union-Vietnam Free Trade Agreement (EVFTA), he urged the ITC Executive Director and the ITC to back and speed up the signing and ratification of the agreement while helping Vietnam to improve its capacity so that the country could fully and effectively realise the trade pact's commitments.
For her part, ITC Executive Director González pledged to help businesses in developing countries, including Vietnam, gain access to information, expand markets and participate deeper in the global value chain.
The ITC director also expressed her hope that parties will soon sign and ratify the EVFTA as it will bring practical benefits to the EU and its members through expanding and diversifying markets and connecting more closely with the Asian-Pacific and Southeast Asian regions.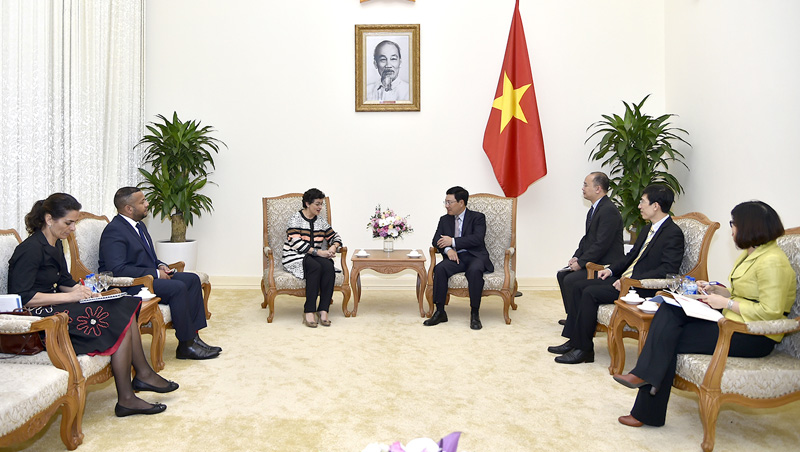 Delegates at the reception (Photo: MOFA)