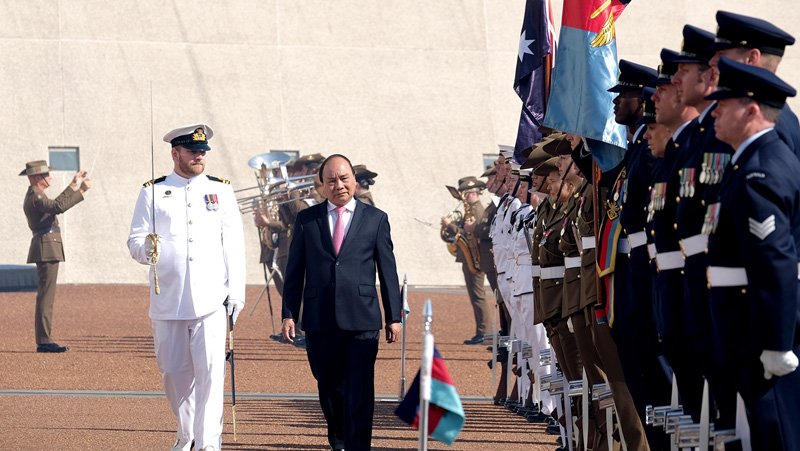 Prime Minister Nguyen Xuan Phuc reviews an honour guard in Australia. (Photo: VGP)
The ceremony was chaired by Australian Prime Minister Malcolm Turnbull and his spouse.
Following the welcoming ceremony, Prime Minister Nguyen Xuan Phuc held talks with his Australian counterpart.
After talks, the two Prime Ministers are to witness the signing of important bilateral cooperative agreements, including a joint statement on establishing the Vietnam-Australia Strategic Partnership.
Prime Minister Nguyen Xuan Phuc's official visit to Australia took place in the context of the thriving bilateral relations, especially after the two countries set up Comprehensive Partnership in 2009 and inked the declaration on enhancing the partnership in 2015.
Two-way trade grows over 7 percent every year to reach nearly US$ 6.5 billion in 2017, up 22.2 percent against 2016. Australia ranks 20th among 126 countries and territories landing investment in the Southeast Asian nation with 412 projects valued at US$ 1.8 billion. Meanwhile, Vietnam has 44 projects worth US$387.1 million in Australia.
Australia is currently among the largest non-refundable official development assistance providers for Vietnam with over AUD 110 million in aid every year from 2010.
Both sides have enjoyed strong cooperation in education with a line-up of Australian scholarships granted to Vietnamese students every year. There are some 30,000 Vietnamese students pursuing study in the country.