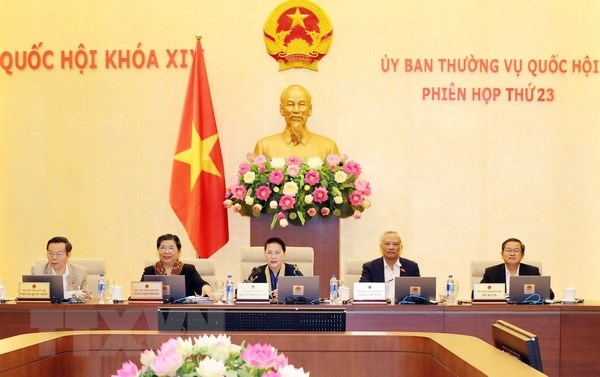 NA Chairwoman Nguyen Thi Kim Ngan (centre) and the vice chairpersons of the NA at the April 17 meeting of the NA Standing Committee. (Photo: VNA)
During the session, the legislators will consider 16 draft bills, while approving nine draft bills and one resolution, including a draft bill to adjust and shorten 13 other laws.
According to NA Chairwoman Nguyen Thi Kim Ngan, the question & answer (Q&A) session will be conducted in the form of "rapid questions and brief answers", in which the questioner will propose a question and the respondent will answer immediately. This form of Q&A was piloted at the 22th meeting of the NA Standing Committee in March 2018, with Minister of Justice Le Thanh Long and Minister of Science and Technology Chu Ngoc Anh being under question.
There will be a maximum of one minute per question and three minutes for the corresponding answer.
The NA leader stressed the need to reduce the time for group discussions and increase the time for deputies to discuss at the plenary session, while arranging a reasonable amount of time to discuss draft bills and increasing the time for plenary discussions on socio-economic issues, reports on the fight against corruption and wastefulness, and other important draft bills.
General Secretary of the NA, Nguyen Hanh Phuc, said that the new Q&A form has been welcomed by voters, because it helps to increase dialogue and avoid the duplication of questions.