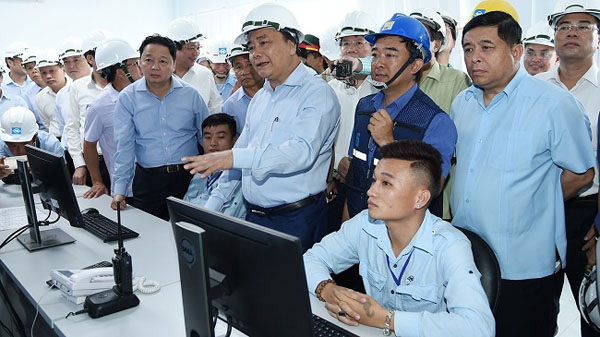 PM Nguyen Xuan Phuc inspects the waste water treatment operating room at the FHS
Addressing the event in Ha Tinh province, the PM noted that despite being the largest foreign investment project in Vietnam, with capital of over US$11 billion, Formosa Ha Tinh also caused the largest environmental disaster the country has ever witnessed.
He recognised the efforts exerted by the relevant ministries, sectors and localities in overcoming the consequences of the Formosa-related incident, as well as in ensuring social security and order and the normal socio-economic development activities in the four affected provinces, in the central region.
Evaluating the outcomes of Formosa's incident recovery work, the Government leader said that the company has taken full responsibility and has seriously dealt with the aftermath, with 52 of its 53 basic environmental violations being addressed and a modern environmental treatment system installed.
These moves have demonstrated the investor's determination in their recovery work, whilst affirming the Vietnamese government's stance of providing favourable conditions for investors to conduct business successfully in the country, he added.
The PM asked FHS to apply advanced technologies and modern equipment in its production line, in order to fully address its violations in terms of both machinery and social responsibilities, whilst expressing his belief that the company would uphold their sense of responsibility and not repeat the same incident.
He encouraged FHS to increase its capacity in combination with being well-prepared for environmental protection scenarios, regarding both water and air environments and the issue of waste.
The leader assigned the Ministry of Natural Resources and Environment to take responsibility before the Government and the PM with regards to the installation of monitoring and supervision devices in order to ensure environmental indicators.
Concerning the incident recovery and compensation work, PM Phuc noted that the Government will continue allocating resources in a timely fashion, in order to facilitate post-incident production recovery in line with the law.
Vietnam is striving to be among the countries with the most favourable investment environment in the region, he said, asking authorities across all-levels to facilitate investors' business activities in the country.
Earlier on the same day, PM Phuc inspected FHS's waste water treatment area and production line at the Vung Ang Economic Zone in Ha Tinh province, in addition to the company's Son Duong deep-water port, which features 11 wharves and allow ships with a deadweight of up to 200,000 tonnes.