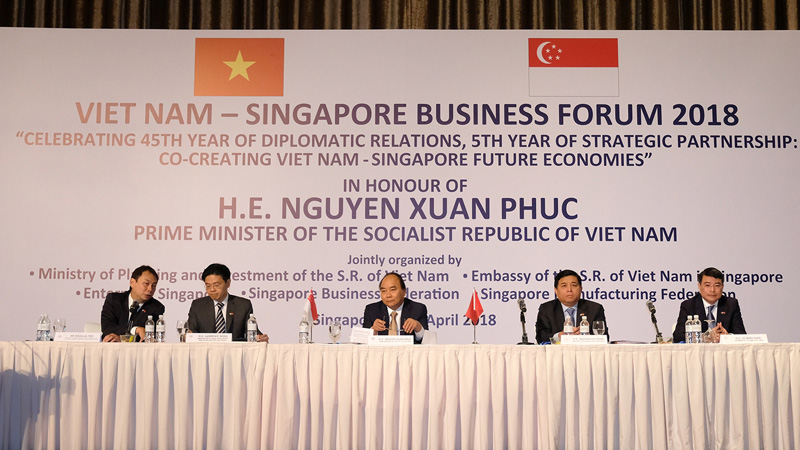 The Vietnam-Singapore Business Forum
Addressing the Vietnam-Singapore Business Forum on April 26, which brought together about 700 delegates from both sides, the PM highlighted the practical foundation for the bilateral collaboration, which was laid by late Singaporean PM Lee Kuan Yew who supported the construction of the first Vietnam-Singapore Industrial Park (VSIP) in Vietnam's southern Binh Duong province in 1992.
Five years after the establishment of the Vietnam-Singapore strategic partnership, Singapore now has more than 2,000 projects with total investment capital of over US$43 billion in Vietnam, and two-way trade has reached nearly US$8.5 billion, PM Phuc said, adding that up to 280,000 Singaporean tourists visited Vietnam each year.
Vietnam also has invested in nearly 100 projects valued at more than US$200 million in Singapore.
The numbers reflect improvements in Vietnam's investment environment, he said, citing a report released by the World Bank at the end of last year which ranked Vietnam's business climate at the 68th position among 190 countries surveyed, up 30 places as compared with 2010.
Vietnam also claimed the 55th place among 137 countries in the rankings of the World Economic Forum, the leader added.
PM Phuc noted that Vietnam is scaling up efforts to improve growth quality, towards higher productivity and innovations, utilise opportunities generated by the fourth industrial revolution and harmoniously combine the domestic and foreign-invested sectors.
He told the participating Singaporean businesses that the number of internet users in Vietnam amounts to 52 million or 54% of its population, ranking fifth in Asia-Pacific.
Besides, up to 55% of Vietnamese people are using smart phones, and the rate is expected to reach 80% by 2020, the highest rate in the region, the PM said, urging Singaporean firms to notice this potential trend.
Highlighting Vietnam's efforts to develop innovative start-ups, PM Phuc emphasised that the Vietnamese Government commits to creating the best possible conditions for start-up initiatives and intellectual property (IP) right protection within the framework of the Law on Intellectual Property recently approved by the Vietnamese National Assembly, while fulfilling its commitments to protecting IP rights within the framework of free trade agreements (FTAs) to which Vietnam is a signatory.
In that spirit, he called on Singaporean partners to continue to share their experience and achievements in start-ups with Vietnam.
Speaking at the forum, President of the Singaporean Manufacturing Federation Douglas Foo said Vietnam has become a destination of Asian manufacturers, thus opening up opportunities for Singaporean enterprises, especially those operating in civil electronics, garment-textile and food production, to provide logistics services for the manufacturers.
Many Singaporean companies have invested in seaport, logistics, housing, urban and industrial park projects in Vietnam, Douglas Foo said, stressing that thanks to the support of the Vietnamese Government, seven VSIPs have been established in Vietnamese localities, becoming a symbol of the economic links between the two countries.
He called on PM Phuc and the Vietnamese Government to continue to support Singaporean projects in Vietnam.
Singaporean Minister for National Development and Finance Lawrence Wong suggested Vietnam and Singapore cooperate in energy, oil and gas, and smart city building, along with digital economy.