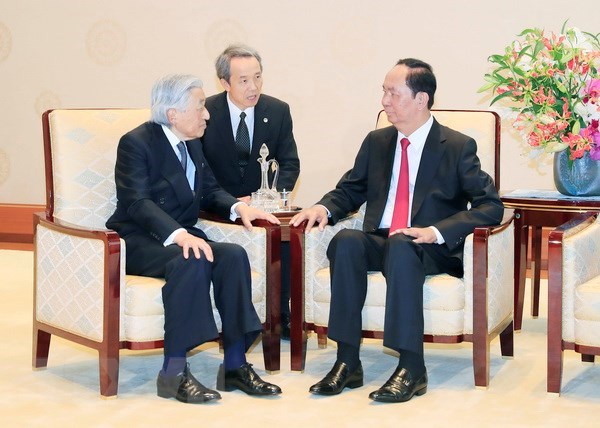 The Vietnamese Government and people always attach much importance to the relations with Japan, President Tran Dai Quang said during a meeting with the Japanese Emperor and Empress in Tokyo on May 30.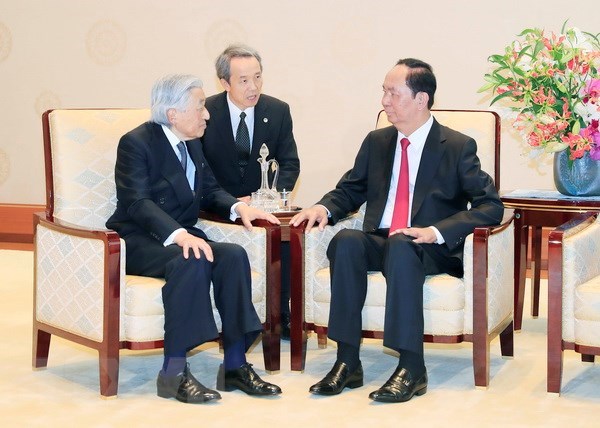 President Tran Dai Quang meets with Japanese Emperor Akihito on May 30 (Photo: VNA)
President Quang hoped that his State visit to Japan will open up new development phase in the Vietnam-Japan ties towards a more intensive and effective manner, bringing practical benefits to people of both sides and for regional and global peace, stability, cooperation and development.

The State leader and his spouse expressed their impression on the visit to Vietnam made by the Japanese royal couple in 2017, adding that their visit has deepened mutual trust and understanding between the two countries' people, contributing to elevating the bilateral ties to a new height.

On the occasion, they invited members of the Japanese Imperial Family to visit Vietnam in a proper time.
For their parts, the Japanese royal couple thanked President Quang and his spouse for giving them warm welcome during their visit to Vietnam last year. They affirmed that they treasure the Vietnam-Japan cooperation and friendship and will do their utmost to further develop the ties.

Japanese Emperor Akihito underlined that cultural and people-to-people exchanges, particularly during the year the two countries are celebrating the 45th anniversary of diplomatic relations, are very important for the development of the bilateral ties as they serve as a boost to mutual trust and understanding.

On May 30 night, President Quang and his spouse were scheduled to attend a national banquet hosted by the Emperor and Empress at the Imperial Palace.

In the morning, the Japanese royal couple hosted an official welcome ceremony for President Quang and his spouse. President Quang is the first foreign State leader to pay a State visit to Japan this year.
Source: VNA