(HBO) - Kim Boi district in Hoa Binh province has seen many outstanding collectives and individuals in the patriotic emulation movement. One of the typical examples is the management board of Men Doi hamlet in Hop Kim commune which leads the movement to encourage local people to join hands in building the new-style rural areas. It persuaded 24 households to donate a total of 11,350 sq.m of land to build the commune's culture house and sports ground.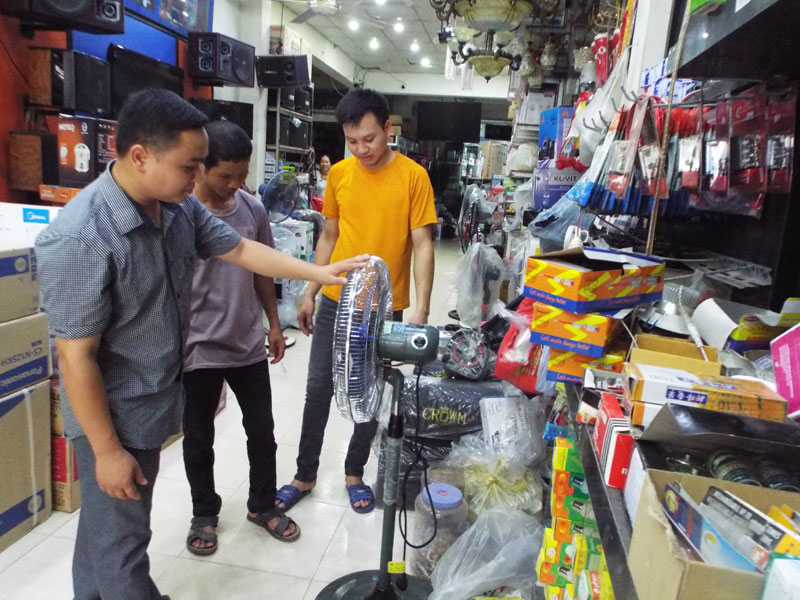 Officials from Kim Boi district's Home Affairs Department visit Mr. Tran Van Do in Thong Nhat ward, Bo town, who is a role model in the business and production emulation movement.
The People's Committee of Nam Thuong commune leads the emulation movement to speed up administrative reform, while the People's Committee and People's Council of Kim Binh commune lead the movement on building strong grassroots administration. The family of Mr Dinh Manh Hoa in Nam Thuong hamlet, Nam Thuong commune is a role model in developing farm economy with average income of over 1.5 billion VND per year. Meanwhile, the pig farm and fruit orchard of Mr Nguyen Ngoc Hai in Trai Oi hamlet, Kim Truy commune, have created jobs for 15 seasonal labourers with wages of 200,000 VND a day. His family earns more than 800 million VND each year. The economic model combining a 7,000sq.m fish pond, 2.5ha of orange orchard and nine buffalos of Mr Bui Xuan Doi, a war invalid, in Muon hamlet of Kim Son commune, has also created jobs for many seasonal labourers, and brought around 500 million VND in profits each year for his family.
Responding to patriotic emulation movements in 2017 launched by the provincial People's Committee, since the beginning of this year, the Kim Boi district People's Committee has instructed its departments and agencies to design plans and implement emulation movements in line with political tasks in grassroots units and localities. This year, the district People's Committee launched a patriotic emulation movement themed "Kim Boi district's Party organisation, administration, armed forces, businesses and people maintain high consensus, strive to successfully implement socio-economic development tasks in 2017", with several main targets such as per capita income of 18.4 million VND, collecting 45.6 billion VND for the State budget (up 13 percent year-on-year), reducing the rate of poor households by 4.5 percent to 25.29 percent, and having two more communes recognised as new style rural areas.
The district also set the goals of increasing the quality of educational universalisation, and having 70 percent of households meeting cultural standards, while 50 percent of local Party cells meeting criteria for transparent and strong Party organisations.
According to Mr Bui Quang Hop, deputy head of the district's Home Affairs Department, to achieve the set targets, the district People's Committee has put forward several measures, including continuing to better the emulation and reward work with the focus on speeding up the implementation of emulation movements and enhancing public awareness about the necessity and responsibility for emulation work.
Based on the district's political tasks and socio-economic development goals, each commune and each town are requested to launch emulation movements in all Party organisations, armed force units and communities in association with the movement on studying and following President Ho Chi Minh's moral example towards achieving and surpassing socio-economic goals of 2017.
They are also urged to intensify administrative reform, tighten discipline, enhancing leading officials' responsibility, expand information technology applications in State agencies and renew operation methods of the administrative apparatus.
It is necessary to continue implementing the "Hoa Binh province makes concerted efforts to build new-style rural areas" emulation movement in 2017 and in the 2016-2020 period, he added.
Emulation movements will be carried out in all fields along with timely honouring and multiplying model roles.
Huong Lan