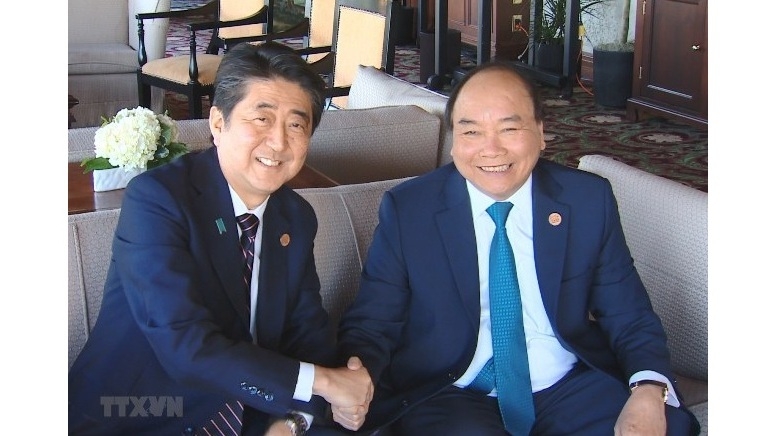 Prime Minister Nguyen Xuan Phuc has had bilateral meetings with leaders of many G7 nations and guest countries attending the G7 Outreach Summit in Quebec, Canada.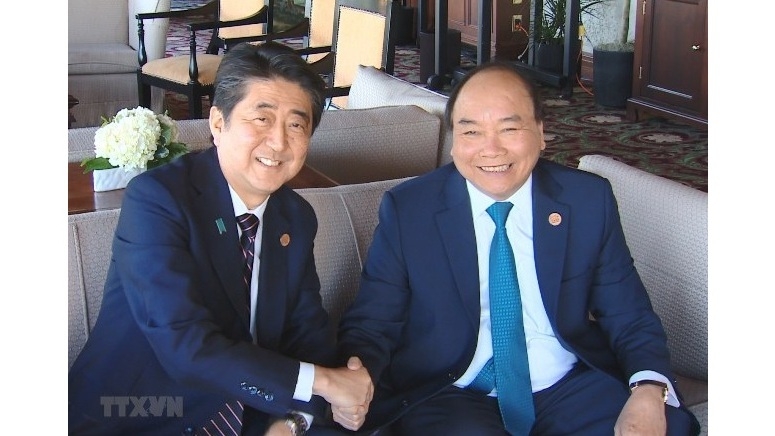 PM Nguyen Xuan Phuc (R) and his Japanese counterpart Shinzo Abe. (Photo: VNA)
At their meeting, PM Phuc and his Japanese counterpart Shinzo Abe agreed on the need to develop the Vietnam-Japan extensive strategic partnership in a more substantive and effective manner in all fields and carry out well the agreements and joint statement reached at the recent Japan visit by Vietnamese President Tran Dai Quang.
They shared the view that the two countries need to make efforts to soon ratify and implement the Comprehensive and Progressive Agreement for Trans-Pacific Partnership (CPTPP) so as to benefit both sides and the whole region.
PM Abe promised to help Vietnam develop green agriculture and build high-quality infrastructure to serve socio-economic development.
The two PMs also concurred in strengthening cooperation at multilateral forums and within the ASEAN-Japan framework so as to contribute to peace, cooperation and development in the region.
PM Phuc also had a meeting with Norwegian PM Erna Solberg. They discussed measures to promote their countries' cooperation and create more favourable conditions for Norwegian businesses to invest more in Vietnam, especially in the areas the European nation is strong at like maritime transport, shipbuilding, oil and gas, aquaculture and renewable energy.
The Vietnamese leader urged both countries to together speed up the negotiation on a free trade agreement between Vietnam and the European Free Trade Association. He asked Norway to assist Vietnam in developing health care, education, clean water supply and environmental hygiene.
PM Solberg highlighted the countries' good forestry cooperation, adding that the Vietnamese community has developed successfully in her country and is a bridge for the bilateral friendship.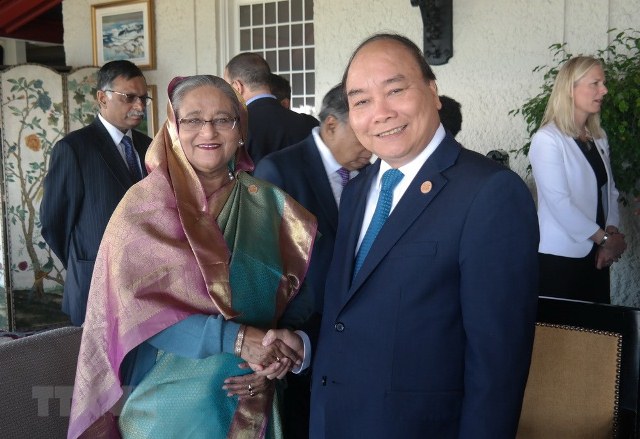 PM Nguyen Xuan Phuc and his Bangladeshi counterpart Sheikh Hasina. (Photo: VNA)
Meanwhile, PM Phuc and Bangladeshi PM Sheikh Hasina agreed to exert more efforts to solidify their countries' traditional friendship and capitalise on the strengths and cooperation potential of Vietnam and Bangladesh.
PM Phuc called on the two sides to take concrete measures to increase bilateral trade, noting that Vietnam is ready to ensure stable and long-term food supply for Bangladesh. He also asked Bangladesh to support Vietnam's candidacy for non-permanent membership in the UN Security Council for 2020-2021.
At another meeting, PM Phuc and French President Emmanuel Macron expressed their delight at the comprehensive development of the two countries' strategic partnership, including a visit to France by General Secretary of the Communist Party of Vietnam Central Committee Nguyen Phu Trong last March. Economic and trade relations between Vietnam and France have also continued to grow. France is now a leading economic partner of Vietnam in Europe.
The two leaders agreed to boost the effectiveness of cooperation mechanisms, promote dialogue on strategic issues and security-defence, and coordinate to take measures to foster trade and investment partnerships. They also agreed to expand cultural exchange and locality-to-locality cooperation.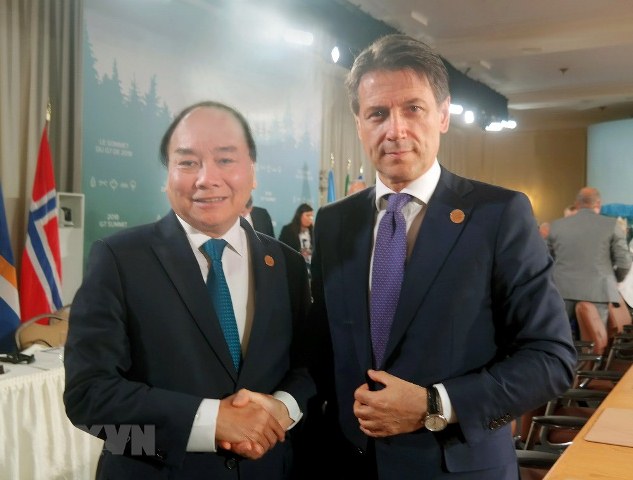 PMs Nguyen Xuan Phuc (R) of Vietnam and Giuseppe Conte of Italy (Photo: VNA)
In another separate meeting, PM Phuc and Italian PM Giuseppe Conte were unanimous in reinforcing the Vietnam-Italy strategic partnership and effectively carry out the two countries' cooperation and dialogue mechanisms. PM Phuc thanked Italy for supporting Vietnam's candidacy for a seat in the UN Security Council for 2020-2021.
The Vietnamese leader also met with Argentinian President Mauricio Macri on the sidelines of the G7 Outreach Summit. They affirmed that their countries attach importance to each other in their respective foreign policies and want to intensify bilateral partnership, thus providing more favourable conditions for businesses to boost trade.
PM Phuc asked the two sides to accelerate the signing of cooperation documents to perfect the legal framework for long-term cooperation. President Macri invited PM Phuc to visit his country in 2018 and expressed his wish to visit Vietnam in 2019 to further cement bilateral ties.
During his stay to attend the G7 Outreach Summit, the Vietnamese PM also had meetings with the Presidents of Haiti, Senegal and South Africa. They talked measures to expand Vietnam's cooperation with these countries, particularly in economy, trade and investment, to optimise the huge potential of bilateral relations.