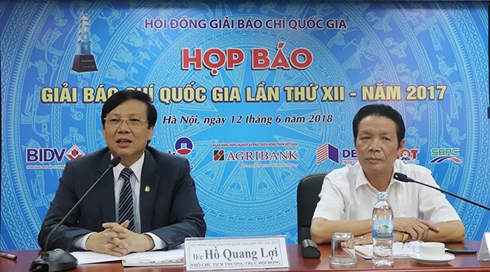 As many as 105 media works winning the 12th National Press Awards 2017 will be honoured at an award ceremony in Hanoi on June 21, the Vietnam Revolutionary Journalism Day.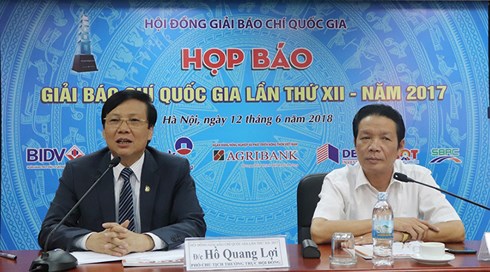 Standing Vice Chairman of the Vietnam Journalism Association Ho Quang Loi (L) at the press conference (Photo: kinhtedothi.vn)
The winning works include eight A prizes, 25 B prizes, 43 C prizes and 29 consolation prizes, heard a press conference in Hanoi on June 12.
According to Ho Quang Loi, Standing Vice Chairman of the Vietnam Journalism Association and Vice Chairman of the Council of the National Press Awards 2017, the council decided to raise the prize values from the 2017 season, with each A prize winner receiving up to 100 million VND (4,400 USD).
The 12th National Press Awards attracted 1,753 entries from 155 press agencies and individuals across the country.
There was no big difference in the quality between works of central and local press agencies, Loi said, noticing that reportages and documentaries made by local reporters were highly appreciated.
Regarding the 2018 edition, Loi underlined that a special prize will be chosen from A prizes and it will be kept secret until the award ceremony. A confidential group of critics will be set up to give further evaluation of the works entering the final round.
After 12 years of organisation, the National Press Awards has attracted the proactive participation of press agencies and journalists nationwide. The event aims to honour authors and group authors with excellent media works.-\