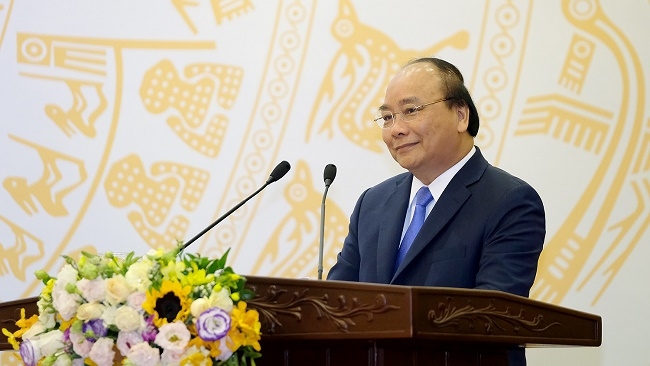 PM Nguyen Xuan Phuc speaks at the meeting. (Photo: VGP)
The government leader made the request while hosting a reception for veteran journalists and leaders of the press agencies in Hanoi on June 20, on the occasion of the 93rd anniversary of the Vietnam Revolutionary Journalism Day (June 21, 1925-2018).
PM Phuc extended his congratulations to journalists nationwide, affirming that the Vietnamese revolutionary press always remains a key force and holds an important position in the ideological and cultural front, contributing significantly to the Party's revolutionary cause as well as the cause of national construction and protection.
Praising the efforts and achievements made by the press agencies over the past few years, he pointed out a number of shortcomings that the Vietnamese press needs to seriously examine and address, including the pursuit of commercialisation, group interests, individual interests, and the lopsided coverage of news to attract views.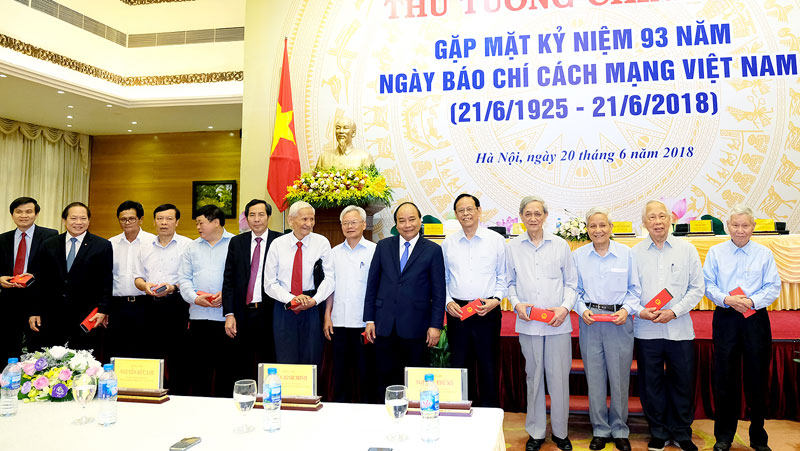 PM Phuc presents gifts to several veteran journalists and representatives of the press agencies. (Photo: VGP)
The PM urged the press to work on consolidating social trust and a consensus in the implementation of the Party and State's guidelines and policies, while getting involved in supervising state agencies in the implementation of the government's motto of "discipline, integrity, action, creativity, and efficiency".
The press should continue to promote its leading role in combating hostilities, fighting to protect national territorial sovereignty, proactively refuting false information, and directing public opinion, he said.
The government leader asked the functional agencies to research, review, and finalise the relevant mechanisms and policies in order to ensure the incomes and standard of living for journalists, as well as those working in press agencies.
On the occasion, PM Phuc presented gifts to several veteran journalists and representatives of the press agencies.