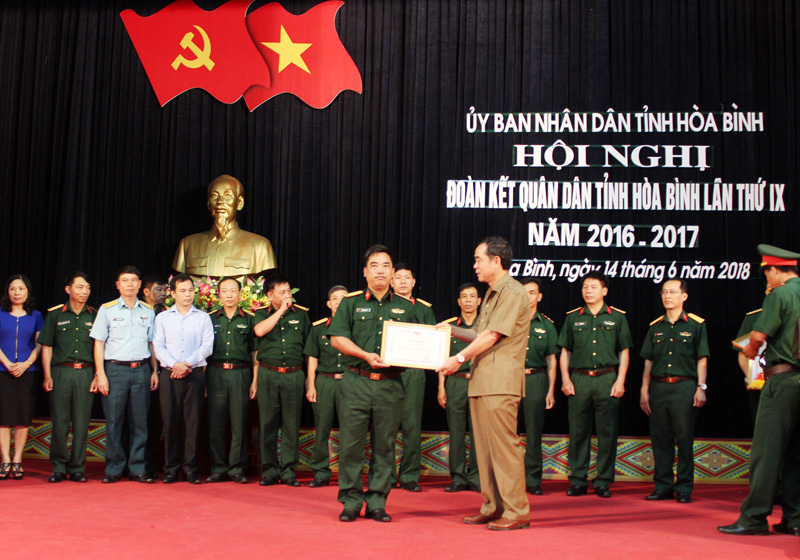 (HBO) – The People's Committee of Hoa Binh province has held the ninth conference for people-army solidarity in 2016-2017. Chairman of the Hoa Binh People's Committee Nguyen Van Quang chaired the event.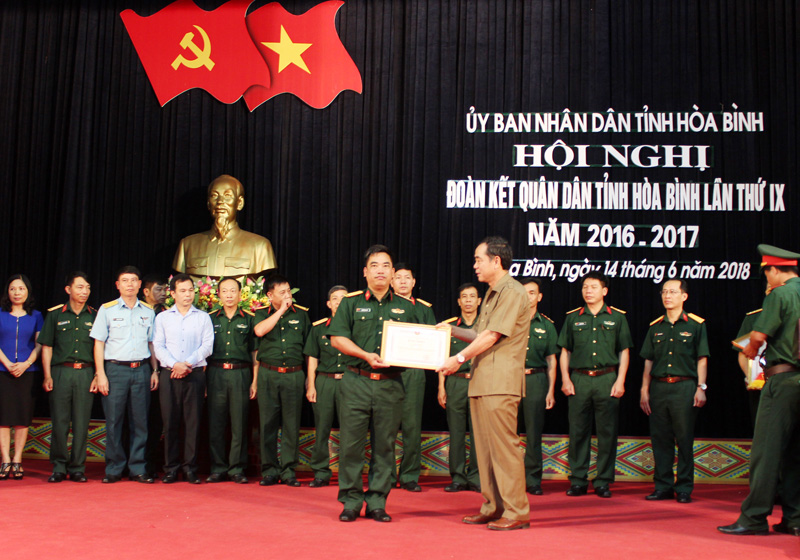 Chairman of the provincial People's Committe Nguyen Van Quang presents certificates of merit to organisations and individuals with outstanding achievements.
In performing the task in promoting people-army solidarity in the two years 2016 and 2017, the local armed forces and military units stationed in the province joined hands with local Party committees and authorities at all levels to build infrastructure, contributing to provincial socio-economic development, poverty alleviation and the national target programme on building new-style rural areas. They also participated in the implementation of social policies for families of military personnel, natural disaster prevention and relief work and forest fire fighting.
The local armed forces and military units stationed in the province mobilised more than 51,000 working days to build, repair and upgrade nearly 150km of concretised roads and over 20km of stoned roads and dredged tens of thousands metres of in-field canals. They also presented more than 3 billion VND (nearly 132,000 USD) to build 15 houses of friendship and 34 houses of gratitude, while providing free medical checkups, health counselling and medicine for nearly 7,000 poor people and policy beneficiaries at a total cost of over 1 billion VND (44,000 USD).
Notably, during the heavy rain and flooding in October 2017, the armed forces and military units in the province deployed more than 2,000 officers and hundreds of vehicles to take part in search and rescue efforts. They evacuated over 1,000 households from dangerous areas and set up 56 tents as temporary shelters for local residents, promptly providing necessities for them with a motto "not to leave people hungry, cold and without shelter during rains and flooding".
Those actions have consolidated people's trust of the Communist Party of Vietnam and the People's Army, along with building a safe region, strengthening defence in the province. They also deepened the unity between local people and the army and upheld the good image of "Uncle Ho's soldiers" in the new era, winning trust of local authorities and people.
On the occasion, the provincial People's Committee presented certificates of merit to five organisations and 12 individuals with outstanding performance in the work for people and army solidarity in 2016-2017./.