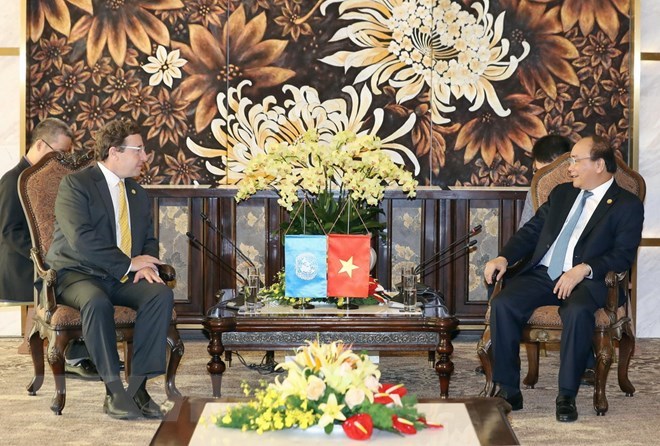 Prime Minister Nguyen Xuan Phuc lauded the UN Development Programme (UNDP)'s assistance for Vietnam over the past four decades when he met with UNDP Administrator Achim Steiner in central Da Nang city on June 27.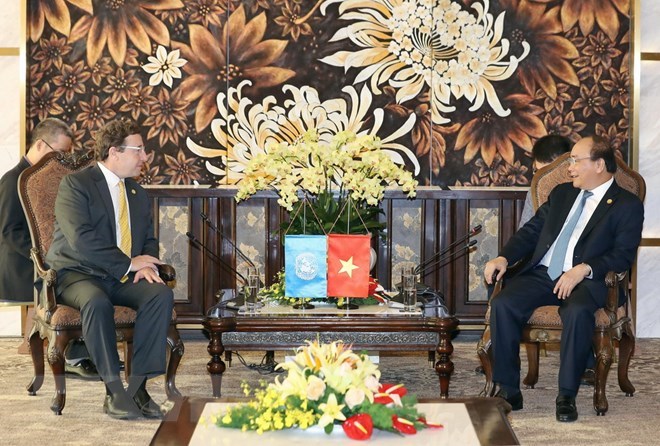 Prime Minister Nguyen Xuan Phuc (R) meets with UNDP Administrator Achim Steiner in Da Nang city on June 27 (Photo: VNA).
Meeting on the sidelines of the 6th Global Environmental Facility (GEF) Assembly, they discussed the UN's efforts to improve the transparency, representativeness and democracy of UN organisations to better support countries in realising the 2030 Agenda for Sustainable Development.
PM Phuc affirmed Vietnam's support for making use of the outcomes and experiences in implementing the "Delivering as One" (DaO) initiative to reform the UN development system.
Vietnam is proud to be one of the countries taking the lead in the DaO initiative and the first nation to have the Green One UN House, a symbol of the Vietnam-UN cooperation as well as the resolve to enhance the UN's connectivity and efficiency, he said.
At the meeting, both host and guest agreed on the need to foster Vietnam's cooperation with the UN and the UNDP.
The Vietnamese leader lauded relations between the country and the UN over the past four decades. He stressed Vietnam respects the UN's central role, adding it will continue making contributions to all three pillars of the UN, which are peace and security, human rights and development.
2018 marks 40 years of Vietnam-UNDP cooperation. PM Phuc thanked the UNDP for its support for Vietnam in the post-war and rebuilding period and the implementation of the Millennium Development Goals (MDGs) and now the Sustainable Development Goals.
For his part, Administrator Steiner said he was impressed with the achievements Vietnam has obtained after more than 30 years of reforms, especially successes in socio-economic development and fulfilling many MDGs ahead of schedule.
He also lauded the UNDP's friendly cooperation with Vietnam. He said through the working sessions with Vietnam's ministries and sectors on May 26, he learned about the country's development focuses, including adapting to climate change and capitalising on opportunities brought by Industry 4.0.
Vietnam's innovation spirit has inspired other countries, Steiner noted, adding that the UNDP will stand with the country to continue supporting its development process.