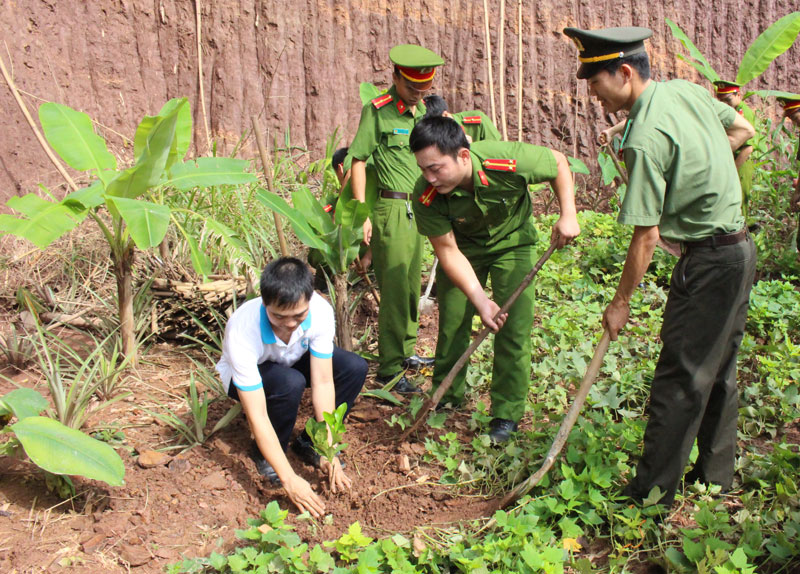 (HBO) – Over the past years, young policemen of Hoa Binh province have effectively implemented the movement "Hoa Binh police youths learn and follow Uncle Ho's teachings - Pioneer, volunteer for national security".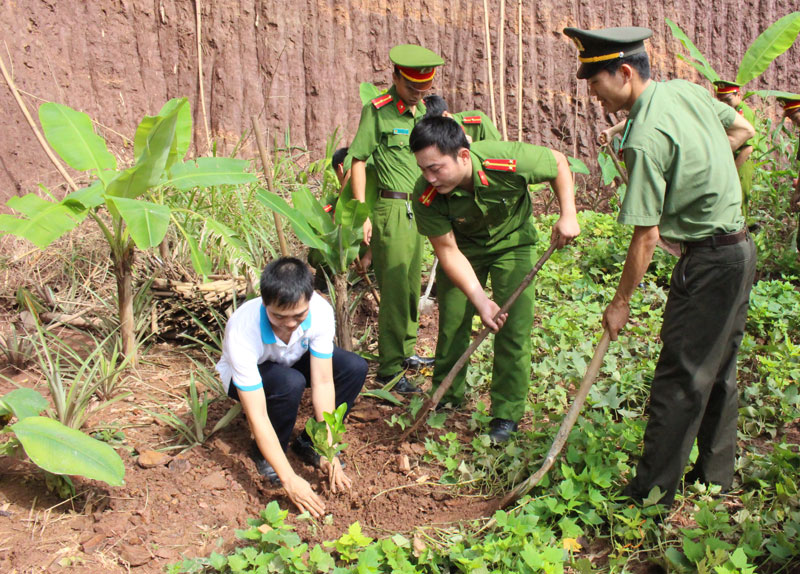 Young policemen in Kim Boi district help Thuong Bi commune's households plant fruit trees and speed up a movement to gradually eliminate low-productivity orchards.

To date, 35 seminars, 16 talks, eight contests, four competitions on the learning and following of President Ho Chi Minh's thoughts, morality and style, three art programmes praising the Party and the late leader, and 22 journeys to historical relic sites have been held, attracting the participation of thousands of police youth union members.

The provincial Police Youth Union has organised competition blocs in terms of divisions and city and districts. Responding to a volunteer movement, over the past four years, over 500 young policemen have voluntarily worked in remote areas and hot spots on security and order, while over 1,000 others have participated in crackdowns on crime, ensuring security and safety during lunar New Year festival and other festivals and important political events in the localities, maintaining traffic safety, and disseminating laws for locals.

In addition, young policemen have actively stepped up voluntary activities for the community in combination with improving professional work. Twelve volunteer youth teams have held 117 sessions to popularise the Party's policies and the State's laws, presented 1,250 books on law to local youth unions, provided free check-ups and medicine for 2,560 people, and gave 750 gifts to policy beneficiaries, disadvantaged households and poor students with good learning performances. They have also helped build seven houses, one bridge and 1.5km of concrete road, while repairing six martyr monuments, providing ID cards for 10,700 people, and donating over 1,800 blood units. Every year, the youth union organisations support 10 poor students with good learning performances with 200,000 VND per month, present 10,000 warm clothes to mountainous students, plant 150,000 trees, and coordinate in carrying out a project to bring light to rural roads, with 12 rural roads benefited with a total investment of over 1 billion VND.

Every year, the provincial Police Youth Union receives certificates of merit from the Ho Chi Minh Communist Youth Union Central Committee and the Minister of Public Security for its achievements in "learning and following Uncle Ho's teachings - Pioneer, volunteer for national security". As many as 85 collectives and hundreds of youths were honoured, while 682 outstanding young policemen were admitted to the Party./.