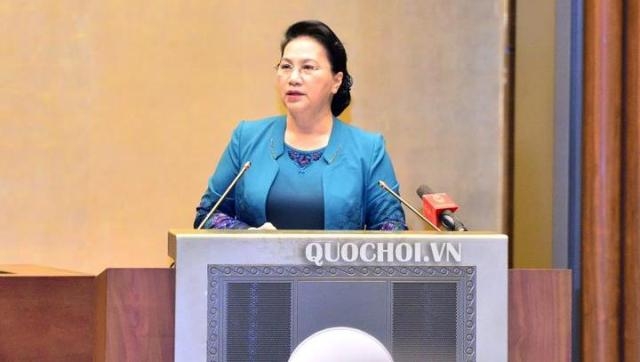 The Party Organisation of the National Assembly (NA) Office held a conference in Hanoi on July 16 to disseminate Resolution No.26-NQ/TW on building a contingent of personnel at all levels adopted by the seventh plenum of the 12th Party Central Committee.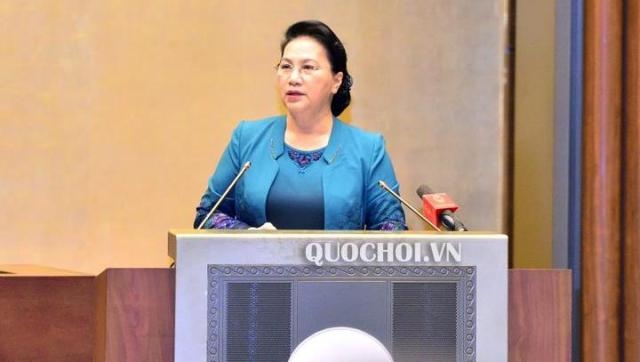 NA Chairwoman Nguyen Thi Kim Ngan addressing the event (Photo: quochoi.vn)

Speaking at the event, NA Chairwoman Nguyen Thi Kim Ngan, who is also Secretary of the NA's Party Delegation, described building a contingent of personnel, especially of those at the strategic level, as the most important and crucial task of the Party, and as such should be done regularly in a cautious, scientific, and effective manner.
The resolution is especially important to continue improving the leadership and fighting capacity of the Party, she said, adding that the NA's Party Delegation will devise a specific action plan to implement the resolution.
The plan will focus on reviewing and building legal documents, resolutions, and mechanisms regarding power control and appraisal of trust, as well as improving training establishments to discover and foster talent, Ngan said.
It will refine the legislature's supervision mechanism, including question and answer sessions, confidence vote casting which will lay the foundation for personnel appraisal, as well as legal regulations regarding the NA's mission and authority over high-level personnel work, the leader noted.
Further attention will be paid to personnel building and work at the NA's agencies, including assigning quotas based on age, gender, and ethnic diversity in hiring officers and those eligible to work in international environments, she added.
In the afternoon of the same day, the NA Office's Party Organisation disseminated the contents of Resolution No.27-NQ/TW, dated May 21, 2018, on reforming salary policy for officials, cadres, armed forces, and workers in enterprises; as well as Resolution No.28-NQ/TW dated May 23, 2018, on reforming social insurance policy issued by the 12th National Party Committee.