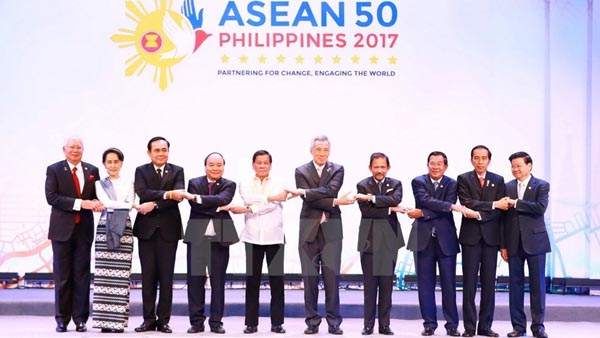 Prime Minister Nguyen Xuan Phuc (fourth from left) and leaders of other ASEAN member countries join hands as they pose for a "family photo" during the opening ceremony at ASEAN leaders' summit in Manila, the Philippines, on April 29, 2017. (Photo: VNA)
In his speech, the Vietnamese Government leader noted with pleasure that with five initial members, ASEAN has grown up into a Community with 10 members which have seen significant achievements in politics, economy, institutional development, and intra-bloc connection. He further emphasised that "ASEAN common house" has also been established as a successful model of regional linkage.
He stated that throughout historical ups and downs, beyond its expectation, ASEAN has helped turn the situation in the Southeast Asian region from confrontation and mutual suspicion to co-operation, from division to unity, with its pinnacle being the establishment of the ASEAN Community.
The Prime Minister further highlighted that ASEAN has become the world's sixth largest economy as the regional bloc already has a combined gross domestic product (GDP) of US$ 3 trillion a year. ASEAN is also home to diverse cultures, rich in identity and has solidarity among peoples living in peace, with secured social welfare and improved living standards.
Regarding its external relations, including the world's major powers, PM Nguyen Xuan Phuc stated that ASEAN has been active in promoting cooperation and has played a leading role in regional forums. The association always takes the lead and works with other partners in a constructive manner concerning a wide range of issues, from climate change, terrorism, to peace and stability in the East Sea, which has helped raise the international position of ASEAN and its member countries.
He highlighted that since joining ASEAN in 1995, Vietnam has walked side by side with other ASEAN member countries to contribute to the ASEAN common house. Over the past two decades, Vietnam has made significant contributions to the development of ASEAN.
He also pointed out that the 21st century has brought about both opportunities and huge challenges for ASEAN to realise ASEAN Community Vision 2025 towards "a law-based ASEAN Community, serving the people and considering the people as central". ASEAN is implementing renewals and adjusting the bloc in a more flexible and efficient manner, while continuing to maintain the solidarity which has been built up over the past half century.
The Vietnamese leader reaffirmed Vietnam's commitment to working with other ASEAN members in a joint effort to built a united, self-reliant ASEAN Community; foster internal trade an investment, develop infrastructure, narrow development gap; effectively co-operate to serve the people, improve the livelihood and ensure social welfares for people, and inspire people's pride in the ASEAN Community.
He also pledged that Vietnam would work closely with other member countries to build a legal-biding ASEAN Community in line with fundamental principles of international relations, and improve the efficiency of partnerships, maintain a central role in the region, and uphold common viewpoints on regional and international issues.
On the occasion of ASEAN's 50th founding anniversary, PM Nguyen Xuan Phuc extended his greetings to ASEAN members and peoples in ASEAN Community, expressing his hope for further steps in building a community of solidarity, development, peace and prosperity.