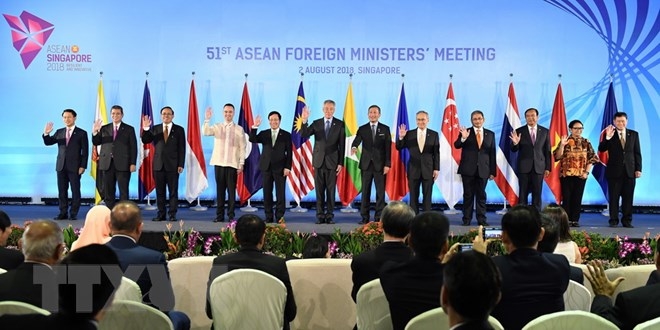 The recent 51st ASEAN Foreign Ministers' Meeting (AMM-51) and other related meetings hosted by Singapore have secured many important outcomes, Deputy Foreign Minister Nguyen Quoc Dung told the media recently.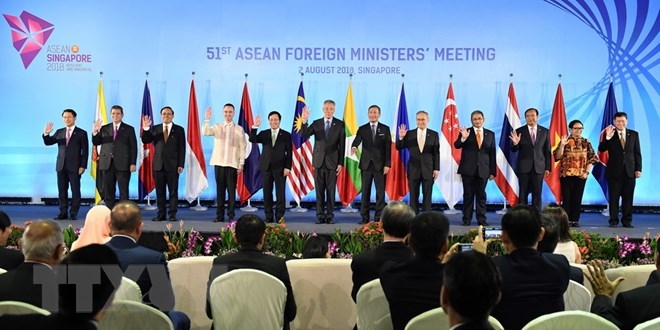 Deputy Prime Minister and Foreign Minister Pham Binh Minh (fifth, left) and other ASEAN officials at the 51st ASEAN Foreign Ministers' Meeting (Photo: VNA).
The association achieved significant results in building a self-reliant and innovative bloc, he said, noting member countries highlighted the need to strengthen cooperation in economy and development among themselves and with partners.
They will focus on fostering intra-bloc connectivity, boosting sustainable development and increasing innovation to make full use of technology advances from the fourth industrial revolution.
ASEAN members showed solidarity to Laos after the devastating hydropower dam collapse through the ASEAN Coordinating Centre for Humanitarian Assistance on Disaster Management.
The association upheld its stance on issues related to peace and stability in the region such as the East Sea issue, said Dung, adding that all member countries agreed on basic principles on the matter, while sharing viewpoints on issues on the site as well as negotiations for a Code of Conduct in the East Sea.
ASEAN has flexibly admitted proposals of its partners like India, Australia and the Republic of Korea without significantly affecting internal regulations.
Secondly, ASEAN and its partners reached consensus on supporting and promoting multilateralisation and maintaining economic links as well as trade and investment facilitation amidst increasing protectionism.
Most partners shared ASEAN's idea on the significance of keeping order in line with international law and the support to multilateral mechanisms, including the World Trade Organisation. They affirmed their close coordination in finalising the negotiation for a Regional Comprehensive Economic Partnership and the ratification of the Comprehensive and Progressive Agreement on Trans-Pacific Partnership, as well as efforts to balance benefits of all parties.
Deputy FM Dung noted that some partners showed interest in new free trade agreements such as one with Canada, and resuming negotiations for deals with difficulties, such as with the EU.
Thirdly, ASEAN agreed on the need to build an active approach to cooperation initiatives and proposals in the region, such as the Indian Ocean-Pacific, the Belt and Road and the Partnership for Quality Infrastructure initiatives.
Some partners expressed hope that the ASEAN play the central role in the Indian Ocean- Pacific strategy, while China suggested close connection between the Belt and Road Initiative and the Master Plan for ASEAN Connectivity until 2025, said Deputy FM Dung.
Dung said the ministers were busy with various multilateral and bilateral activities, and important discussions.
Vietnamese Deputy Prime Minister and Foreign Minister Pham Binh Minh attended more than 30 activities of the AMM-51 and 15 bilateral meetings with ASEAN countries and partners during the event.
Despite several differences in viewpoints, the AMM-51 and related meetings' atmosphere was positive, said Dung, adding that ASEAN and partners' efforts to ease the consequences of disasters in Laos, Indonesia and Myanmar showed that solidarity, cooperation and mutual support are still key trends.
Regarding the role of Vietnam in the AMM-51 and related meetings, Deputy FM Dung said Vietnam supported priorities proposed by Singapore.
In his speeches at the meetings, Deputy PM and Foreign Minister Pham Binh Minh clarified Vietnam's stance on various issues.
Singapore's suggestion to build a self-reliant and innovative ASEAN is suitable to Vietnam's priorities regarding ASEAN, said Dung, highlighting that Vietnam has engaged in the ASEAN Network of Smart Cities, while working closely with other ASEAN countries to promote regional connectivity and the application of Industry 4.0 advances.
Deputy PM and FM Minh's ideas on regional and international issues, including the East Sea matters, were similar to those of many ASEAN countries and partners.
Vietnam's role as the coordinator for the ASEAN-India relationship in the past three years was successful and hailed by both sides. On the occasion, Vietnam also took responsibility as the coordinator for ASEAN-Japan relations in 2018-2021, said Dung.
Source: NDO