Permanent Deputy Prime Minister Truong Hoa Binh has urged the northern mountainous province of Tuyen Quang to further promote infrastructure development, personnel training and administrative reform in order to attract more big and strategic investors to the locality.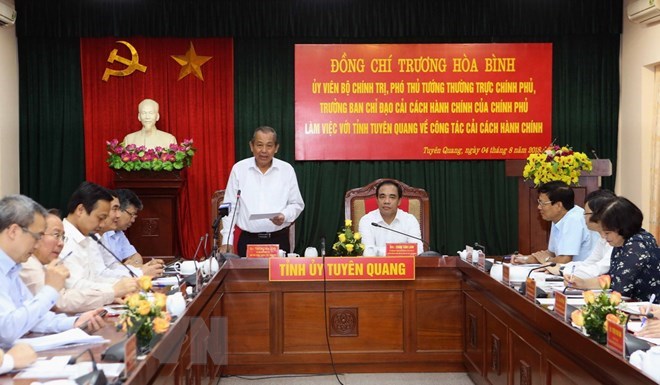 Permanent Deputy Prime Minister Truong Hoa Binh speaks at the working session (Source: VNA).

During a working session with provincial officials on August 4, Deputy PM Binh asked the local authorities to focus on fully taping the province's potential and strengths, thus luring more investments in agricultural development towards bettering the life of local people.
While praising efforts made by the provincial Party Organisation, authorities and people in promoting socio-economic development, poverty reduction and new-style rural building, the Deputy PM stressed the need to incorporate administrative reform in the implementation of the Party Central Committee's directives and resolutions on Party building; promote the study of and follow Ho Chi Minh's moral example; and enhance the responsibility of heads of agencies.
It is also necessary to improve the quality of issued legal documents, streamline the administrative apparatus and accelerate administrative reform to ensure transparency and efficiency, he said.
Chairman of the provincial People's Committee Pham Minh Huan reported the province's achievements in socio-economic development to the Deputy PM.
Accordingly, Tuyen Quang enjoyed an economic growth rate of 6.2 percent in the first half of 2018, with its industrial production value hitting over 6.9 trillion VND (304 million USD), up 11 percent year-on-year. The local budget revenue reached 890 billion VND (39.2 million USD), equivalent to 48.9 percent of the set target.
Administrative reform has been implemented comprehensively, Huan said, adding that the time for processing administrative procedures reduced remarkably, over 90 percent of required administrative procedures was resolved on time.
Tuyen Quang has also strengthened and restructured professional agencies at provincial and district levels in line with the Government's regulations, he said, noting that the province is expected to reduce three units at communal level, and 853 villages and residential areas.
On the occasion, Deputy PM Binh presented 200 million VND (8,800 USD) to the provincial's study promotion fund.
Source: VNA