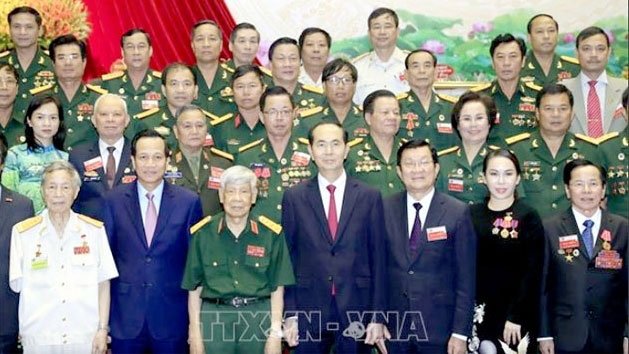 President Tran Dai Quang has praised the positive contributions made by the Vietnam Veterans Business Association (VVBA) towards national construction and development.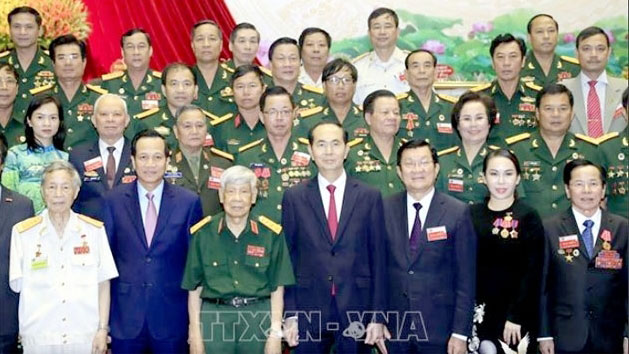 President Tran Dai Quang (first row, centre) and delegates at the event (Photo: VNA).

The State leader made the statement at the second congress of the VVBA, which was held in Hanoi on August 8.
He noted with pleasure that many war veteran-entrepreneurs have been active in applying advanced technology in their operations, creating jobs for thousands of employees, and taking park in social activities.
The veterans-turned-businessmen have established themselves as outstanding examples of Uncle Ho's soldiers, he stressed.
He asked the association to continue popularising the Party's guidelines and the State's policies and laws to its members, while drawing upon the socio-economic development programmes and plans of the country.
He called on the servicemen-entrepreneurs to raise their competitive advantage, develop high added-value services, remain active in international integration, and make further contributions to the socio-economic development in their localities.
On the occasion, President Quang presented the Labour Order, third class, to the association and the Labour Order, first class, to the association's President - Labour Hero Le Van Kiem.
Launched in April 2013, the VVBA now has 38 chapters with 7,728 businesses and 82,791 farms run by war veterans, with total revenues of nearly VND 200 trillion and generating jobs for more than 800,000 employees.
Source: NDO