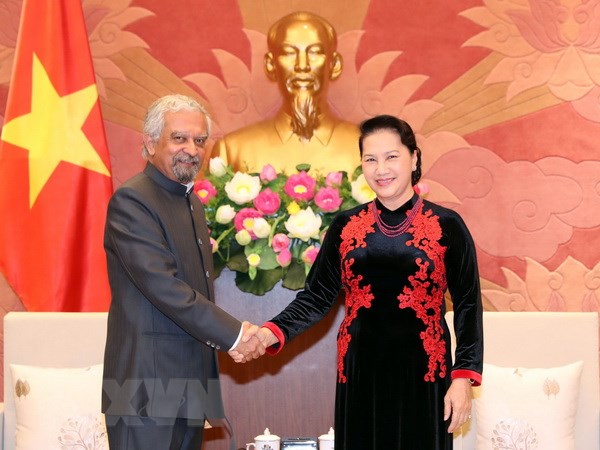 National Assembly (NA) Chairwoman Nguyen Thi Kim Ngan hosted a reception in Hanoi on August 15 for Kamal Malhotra, UN Resident Coordinator and UN Development Programme (UNDP)'s Resident Representative; and Youssouf Adbel-Jelil, the UN Children Fund's (UNICEF)'s Representative for Vietnam.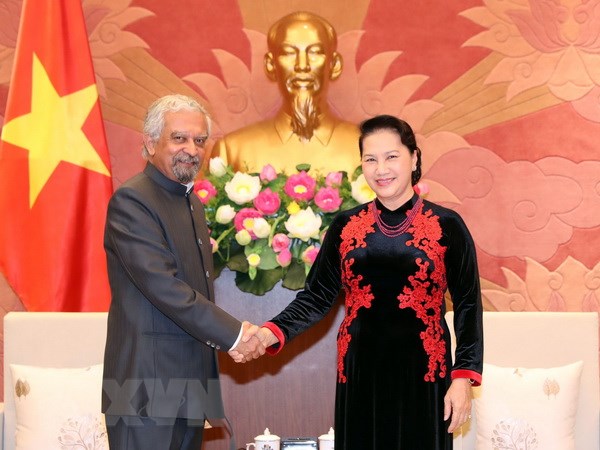 National Assembly Chairwoman Nguyen Thi Kim Ngan (R) receives Kamal Malhotra, UN Resident Coordinator UNDP's Resident Representative in Vietnam (Photo: VNA)
The top legislator hailed the support of the UN and UNDP for socio-economic development in Vietnam, as well as the contributions of UNICEF to the sustainable growth and the protection of children's rights in the country.
Kamal Malhotra congratulated Vietnam on being the first country in Asia and second in the world to ratify the UN Convention on the Rights of the Child (in 1990). Since then, the NA and relevant agencies of Vietnam have exerted various efforts to protect and take care of children.
He expressed his hope that Vietnam will continue the work towards changing the definition of a child's ceiling age to that of 18 years old, as stated in the convention.
The NA Chairwoman agreed with Malhotra's proposal, stressing that Vietnam has rolled out specific measures to ensure children's rights, including building its legal system and the formation of a National Committee on Children.
In order to better respond to realistic requirements amidst international integration, as well as fully promote children's rights, the NA has made comprehensively adjustments to and approved the Child Law 2016, making it coherent with regulations in the convention and other relevant international commitments, she noted.
She said that the Children Law 2016 regulates that children are those under the age of 16, but the country's law defines that only citizens from the age of 18 years old and up can bear full responsibility before the law. Those aged between 16 and 18 are adolescences and still protected by the law, she added.
The NA of Vietnam has regularly supervised the implementation of the Child Law 2016, while continuing to research theoretical, scientific and realistic foundations to consider the change in defining the age of children, said the top legislator.
Adbel-Jelil also spoke in recognition of Vietnam's special policies to protect citizens aged between 16-18 years old, while also applauding the NA's role in safeguarding and caring for children.
The Vietnamese Government has shown strong determination in the work, evidenced through the national online conference on August 6 on the protection of children against violence, abuse, and risks to their life and health, he noted.
The UNICEF representative said that the fund is working with the Vietnamese NA Standing Committee's Institute for Law-Building Research to study the social impacts once the change in definition of children's age is applied.
The study, which is scheduled to conclude in late 2018, is expected to provide useful information assisting the completion of the law and relevant policies of Vietnam, he said.
He also showed his pleasure at the partnership between UNICEF and the NA, pledging to continue offering financial support to the process, which he described as a priority for UNICEF in 2019. –