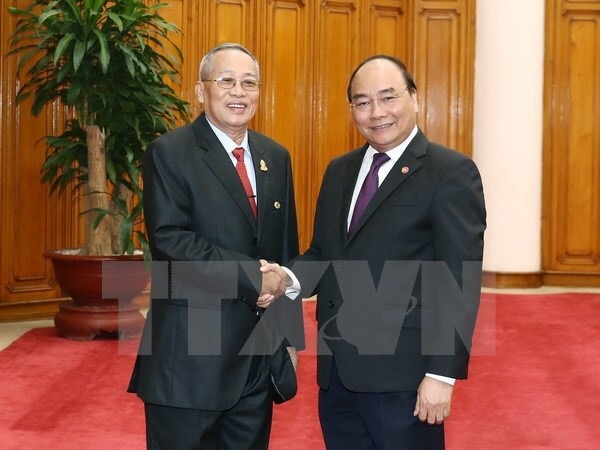 Prime Minister Nguyen Xuan Phuc (R) receives First Vice President of the Cambodian Senate Nay Pena in Hanoi on August 9 (Photo: VNA)
The PM welcomed the Cambodian delegation's official friendship visit to Vietnam, at a time when the two nations are celebrating the 50th founding anniversary of diplomatic ties (June 24), describing it as vivid evidence of their growing relations.
First Vice President Nay Pena said his visit demonstrates the two countries' sound relations. On behalf of the Cambodian leaders and people, he thanked Vietnam for its wholehearted support to the Cambodian people in their fight against the Pol Pot genocidal regime.
He presented the results of Cambodia's commune/ward elections last June, in which the ruling Cambodian People's Party (CPP) won a huge victory. In recent years, Cambodia has achieved an annual average growth of 7 percent, thereby making it a middle-income country, he said.
The Cambodian leader also briefed his host about the outcomes of his earlier talks with Vice Chairwoman of the National Assembly of Vietnam Tong Thi Phong, during which the two sides shared their experience in promoting socio-economic development and parliamentary cooperation.
PM Phuc stressed that the Government and people of Vietnam are glad to witness the enormous and comprehensive achievements that Cambodia has attained over the past few years. Cambodia's prestige and position have continually been improved in the region and the world, he said.
The PM congratulated Cambodia on the results of the commune/ward elections and expressed his belief that the upcoming general election would be a success. He also expressed his belief that under the judicious reign of King Norodom Sihamoni and the leadership of the Senate, the National Assembly and the Government of Cambodia, the Cambodian people would continue to obtain even greater accomplishments in constructing a country of peace, stability with prosperous development.
The Vietnamese leader also noted with pleasure the continuous development of the traditional friendship and cooperation between the two countries, which have brought practical benefits to their people.
Economic, trade and investment relations are growing strongly, making Vietnam one of the leading trade and investment partners of Cambodia, he noted, asking that both sides do their best to raise the bilateral trade to US$5 billion as soon as possible.
He also underlined the need to increase people-to-people exchanges, especially between the youth, whilst enhancing coordination among the relevant agencies to promptly complete the land border demarcation and border marker planting, thereby helping to build a shared borderline of peace, friendship, cooperation and development.
PM Phuc also called on First Vice President Nay Pena and the Cambodian Senate to further help Vietnamese-Cambodians to stabilise their lives in the country so that they may contribute to Cambodia's development and the good neighbourliness between the two nations.
On the occasion of ASEAN's 50th founding anniversary, the PM also expressed his wish that the two countries would continue unanimously contributing to the bloc's development./.