(HBO) – The issue of improving the quality of foreign language teaching and learning has been identified as one of the key tasks of the school year of 2018 - 2019.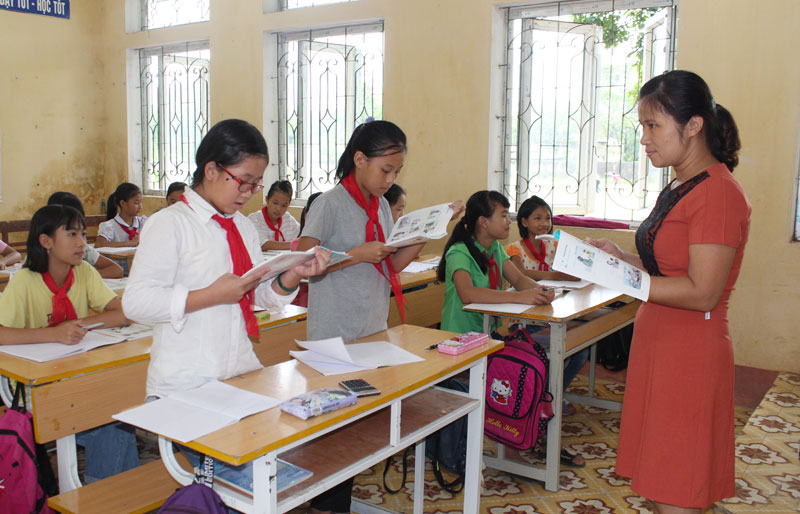 An English lesson of 6th grade pupils at Tan Thanh Secondary & High School (Tan Thanh commune, Luong Son district).

In the school year of 2017 - 2018, the Department of Education and Training concentrated on giving directions on the organization of English teaching and learning for qualified schools in terms of teachers and facilities. The whole province has 94.4% of primary schools teaching English to pupils, of which 26.6% of primary pupils are learning English 4 periods / week. 23% of secondary school pupils, 20% of high school pupils are being taught the 10-year- English program according to the 2020 National Foreign Language Project. The Department guided to diversify the programs and forms of training and fostering to meet the training objectives and the need to learn foreign languages ​​of pupils and students; taking care of building and developing the environment of foreign language practice through the development of foreign language learning communities. At the same time, they continue fostering the teachers of English and foreign language teachers, especially the foreign language teachers at high schools, to meet the requirements of deploying the 10-year- English program. They also focus on training about the teaching methods of teaching English to primary teachers who have not met the standards of competence or have not been trained professionally. 4 lessons / week is assigned for elementary school teachers reaching grade 4 (B2) or higher according to the framework of foreign language competence of Vietnam. At the same time, they increase the investment in material foundations and teaching equipment; applying information technology, renovating learning materials for teaching foreign languages; encouraging Hoang Van Thu Gifted High School and some schools to offer bilingual English teaching in math and natural subjects.

For general education, striving to 2020, pupils at 73% of primary schools, 50% of secondary schools, 61% of high schools will study the 10-year- English program; By 2025, 100% of students from grades 3 to 6 will have a chance to be studying the 10-year- English program.

For teachers, with the objectives set to 2020, 80% of primary teachers, 50% of secondary teachers and 30% of high school teachers will meet the standardized English competence required by the level of the schools.