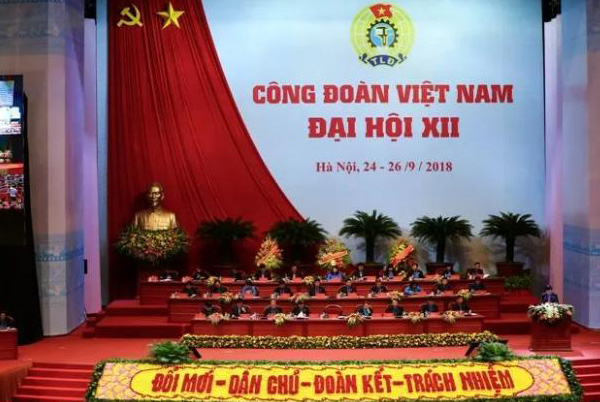 A total of 947 delegates representing more than 10.5 million trade union members nationwide gathered in Hanoi on September 24 for the 12th Congress of the Vietnam Trade Union.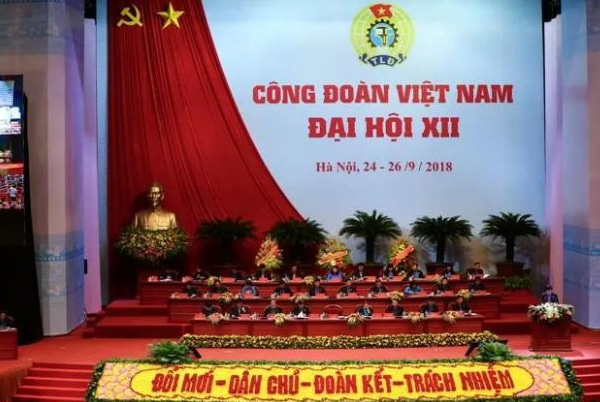 An overview of the opening session of the 12th Vietnam Trade Union Congress in Hanoi on September 24.

This is a major political event and a big festival of the working class and trade union organisations of Vietnam, which determines important issues related to employees and trade union activities for the next five years.
Participants devoted a minute's silence to the memory of late Vietnamese President Tran Dai Quang, who passed away in Hanoi on September 21 due to a serious illness.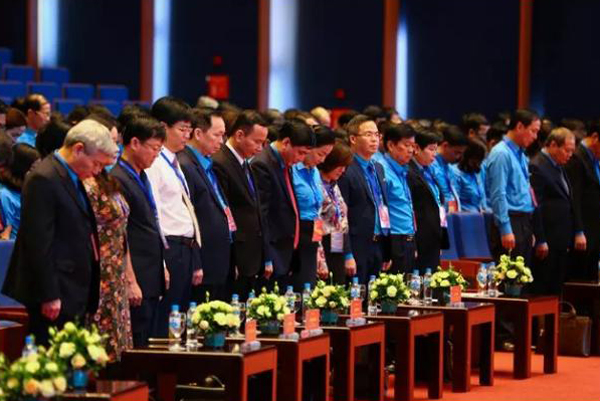 Delegates hold a minute of silence to remember late Vietnamese President Tran Dai Quang.
In his opening remarks, President of the Vietnam General Confederation of Labour (VGCL), Bui Van Cuong, stated that with a sense of responsibility, dynamism and creativity, all-level trade unions have overcome difficulties, overhauled operational contents and methods, and designed many practical guidelines and measures to organise the implementation and basically fulfill the goals and tasks set at the 11thCongress.
The trade union activities have focused on giving practical benefits to union members and labourers, he said, adding that trade union organisations are constantly growing and promoting their role as trustworthy representatives of the labour force, a strong supporter of the Party, and a bridge connecting the Party and State with labourers.
Cuong stressed that the position of trade unions in society has been improved, as trade union activities and the workers' movement have made significant contributions to the country's socio-economic development, strengthening national defense and security, and building a strong and pure political system, thus increasing the position of Vietnam in the international arena.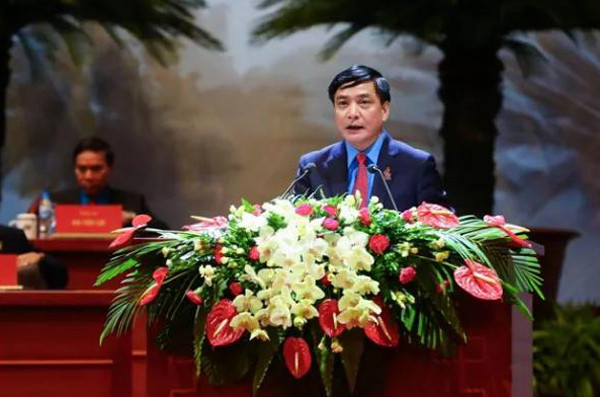 VGCL President Bui Van Cuong speaks at the conference.
The 12th Congress aims to deliver objective and comprehensive assessments of achievements; point out limitations and learn from lessons of the 2013-2018 term, thereby defining targets, directions, tasks and solutions of the trade union organisations for the next five years, he said.
The 12thCongress of the Vietnam Trade Union is scheduled to last until September 26. In the opening session, delegates voted to elect members to the Presidium and the Secretariat, while passing the working programmes of the congress. During the three days of sitting, participants will discuss and approve the Charter of the Vietnam Trade Union (revised).
Within the framework of the Congress, a forum, themed "Vietnam Trade Union accompanies the Government in enhancing national competitiveness and sustainably developing the country", will be held this afternoon, during which Prime Minister Nguyen Xuan Phuc will hold a dialogue with participating delegates.