Vietnamese Minister of National Defence General Ngo Xuan Lich held talks with his New Zealand counterpart Ron Mark in Wellington on November 5 following an official welcome ceremony with traditional Maori rituals for the former.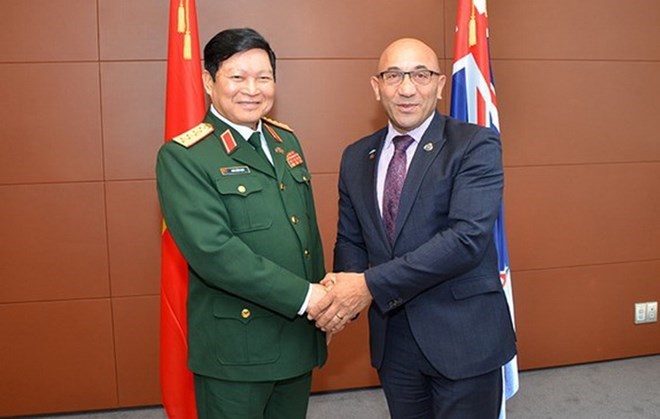 Vietnamese Minister of National Defence General Ngo Xuan Lich (L) hold talks with his New Zealand counterpart Ron Mark in Wellington on November 5. (Photo: VNA)
Welcoming Lich and his high-ranking military delegation to New Zealand, Mark said "New Zealand is committed to enhancing defence cooperation with Vietnam in peacekeeping, maritime security, professional military education and training and through strategic dialogue."

"Minister Lich's visit is an opportunity to further deepen regional security cooperation and to support the elevation of bilateral relations between our two countries," he said.

Gen. Lich, for his part, affirmed that Vietnam attaches great importance to the Comprehensive Partnership with New Zealand. He expected that the visit would be a success, marking a new milestone in the bilateral defence partnership and helping to deepen the Vietnam-New Zealand bilateral ties.

The two ministers exchanged views on issues of mutual concern and updated each other on the socio-economic development of each country. They also reviewed the bilateral defence ties and outlined steps to foster the future cooperation.

They agreed that the defence cooperation between the two nations has proven effective in line with signed agreements, particularly a Memorandum of Understanding on defence cooperation inked in 2013. However, there is still huge room for the two sides to further step up their defence ties, they said.

On that basis, the ministers agreed to continue regular exchange of visits at all levels, effectively promote current dialogue mechanisms and enhance collaboration in foreign language training.

The two countries will also reinforce the exchange of experiences in naval and peacekeeping operations as well as coordination within the framework of the ASEAN Defence Ministers' Meeting Plus (ADMM-Plus) and other multilateral forums. In addition, they will take into account expanding their defence cooperation to other potential realms, such as natural disaster relief that both sides are capable and experienced.

Gen. Lich told his host that Vietnam will assume the annual rotating ASEAN Chairmanship in 2020 and the Vietnamese Ministry of National Defence will host the ADMM-Plus and celebrations for the mechanism's anniversary the same year. Vietnam looks forward to gaining support from New Zealand for the success of these events, he said.

"I am confident that the bilateral defence relations will see new progress in line with benefits of both our countries and for regional and global peace, security and development," he said.

Regarding issues in the East Sea, the two ministers agreed that territorial disputes must be settled via peaceful measures on the basis of international law, especially the 1982 United Nations on the Law of the Sea (UNCLOS).

Lich has been on an official to New Zealand from November 5-9 at the invitation of Minister of Defence Ron Mark.
Source: VNA