Politburo member and National Assembly Chairwoman Nguyen Thi Kim Ngan has asked the central city of Da Nang to become a smart city featuring rapid yet sustainable development.
Addressing the ninth session of the municipal People's Council on December 17, NA Chairwoman Ngan said the meeting took place following a working session between the Politburo and the standing board of the municipal Party Committee to discuss the 15-year implementation of the ninth Politburo's Resolution No.33 on the city's construction and development during the process of industrialisation and modernisation, where they agreed to issue a new resolution on the city's development for 2030 with a vision to 2045.
She hailed Da Nang for improving its competitiveness and administrative reform, as well as for its progress in new-style rural development and national defence-security towards affirming its role as a pillar of growth in the central region. Its position as a key economic zone has contributed to promoting regional connectivity and global integration, she added.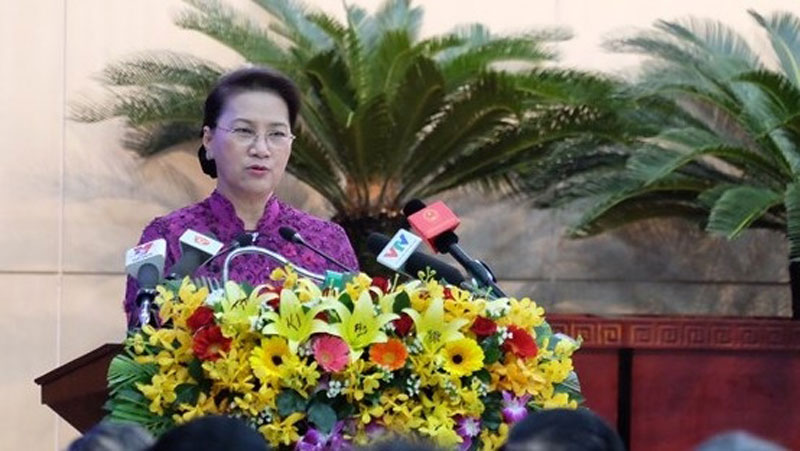 Politburo member and National Assembly Chairwoman Nguyen Thi Kim Ngan.
Da Nang is now a must-see destination for domestic and foreign visitors, gradually proving itself as a centre for major international events, notably including the Asia-Pacific Economic Cooperation (APEC) Leaders' Week 2017, she said.
According to her, the city urgently needs to devise a comprehensive strategy with new development models and breakthrough mechanisms and policies so that its growth rate will not level off.
In order to successfully implement the 14th NA's resolution adopted at its sixth session, the municipal People's Council needs to intensively discuss key measures for 2019; step up administrative and judicial reform, and the fight against corruption; and stimulate production and trade, she said.
She stated that the NA Standing Committee will continue to support Da Nang in carrying out the Politburo's upcoming resolution, particularly its special policies and mechanisms.
The top legislator pledged to consider the council's suggestions regarding special policies and mechanisms to smoothen the city's conditions for sustainable development, allowing it to become a driving force for the central and Central Highlands regions, as well as a centre of the key economic zone in the south-central and central coastal regions.
Chairman of the municipal People's Council Nguyen Nho Trung said the meeting will discuss 54 reports on the city's socio-economic performance and national defence-security this year, thereby outlining appropriate measures for 2019 and giving feedback on 28 draft resolutions on other important fields.
The council will also cast confidence votes on positions elected by its members for the 2016-2021 tenure and conduct personnel work for several key positions.
Secretary of the municipal Party Committee Truong Quang Nghia said it recently held the 15th conference to review the year's activities and devise tasks for 2019.
Almost 2018 socio-economic development targets have been met, he said, adding that city's gross domestic product expanded by 7.86 percent from 2017.