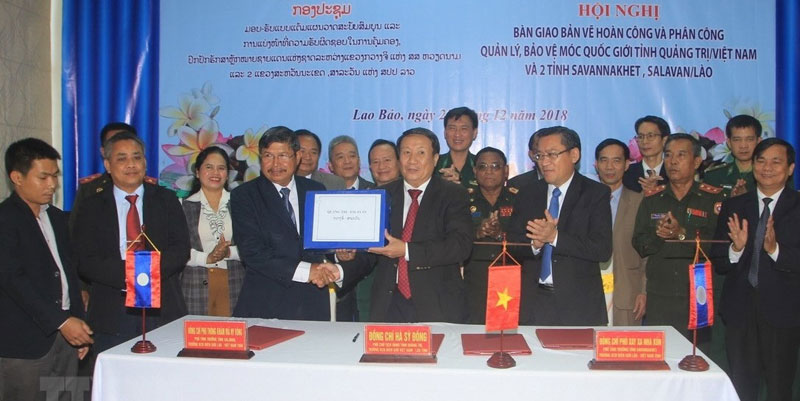 Representatives from Vietnam's central province of Quang Tri and Savannakhet and Salavan provinces of Laos gathered at a meeting in Huong Hoa district on December 25 to agree on the management and protection of national border markers.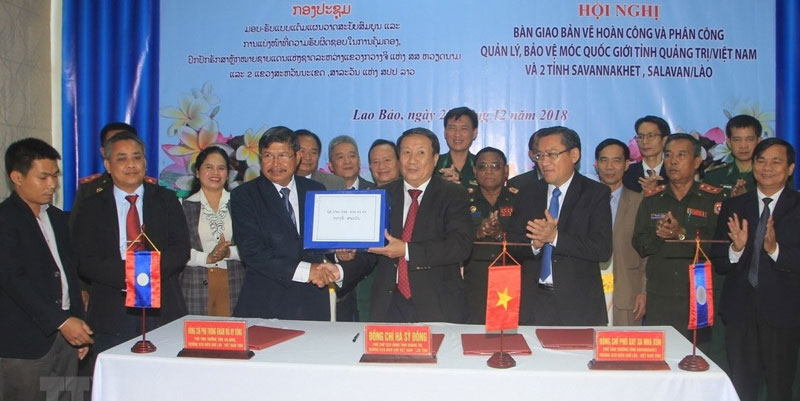 At the meeting in Huong Hoa district (photo: VNA)

At the event, the leaders of the three provinces signed a document assigning the management and protection of national border markers after completion. Quang Tri handed over the complete drawings of border markers, stakes and marker protection walls to Savannakhet and Salavan provinces.
Realising the approved plan on increasing the number of Vietnam-Laos national border markers and upgrading existing ones, between 2008 and 2016, Quang Tri and the two Lao provinces actively and closely cooperated in completing a master plan on the work.
The three provinces finished the border marker increase and upgrading at 62 positions with a total of 68 markers as well as added 37 pairs of auxiliary stakes at 24 locations.
After completing the work, the border between Quang Tri and the two Lao provinces had additional 37 positions and 38 border markers.
Addressing the meeting, Vice Chairman of the Quang Tri provincial People's Committee Ha Sy Dong said the plan on increasing and upgrading the Vietnam-Laos border marker system is an important work between the two nations that holds special significance in terms of security, politics and socio-economy and relates to the territorial sovereignty of each country.
The provinces should assign their border management forces to closely coordinate with each other in patrolling and protecting the safety and status quo of the national border marker system, contributing to building a borderline of peace, friendship, cooperation and development, he noted.
Source: NDO