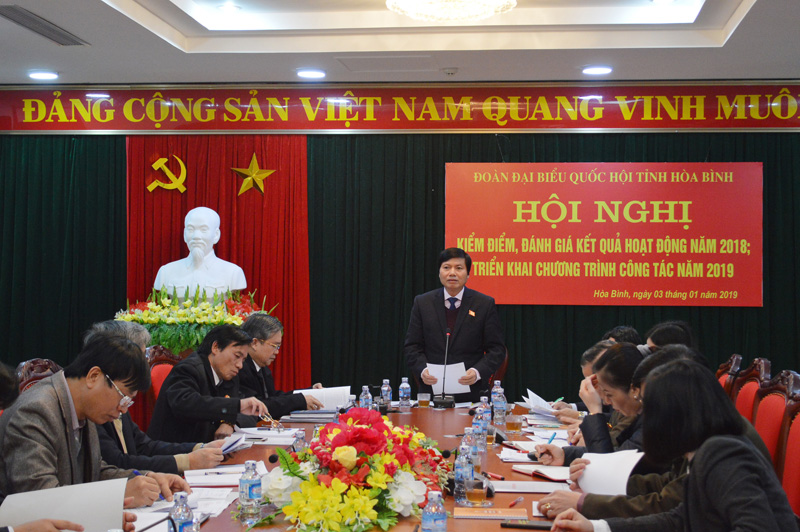 (HBO) – The delegation of National Assembly deputies in Hoa Binh province held a conference on January 3 to review their performance in 2018 and launch the working agenda for 2019. The event was chaired by Tran Dang Ninh, Standing Deputy Secretary of the provincial Party Committee, Chairman of the provincial People's Council, and head of the delegation.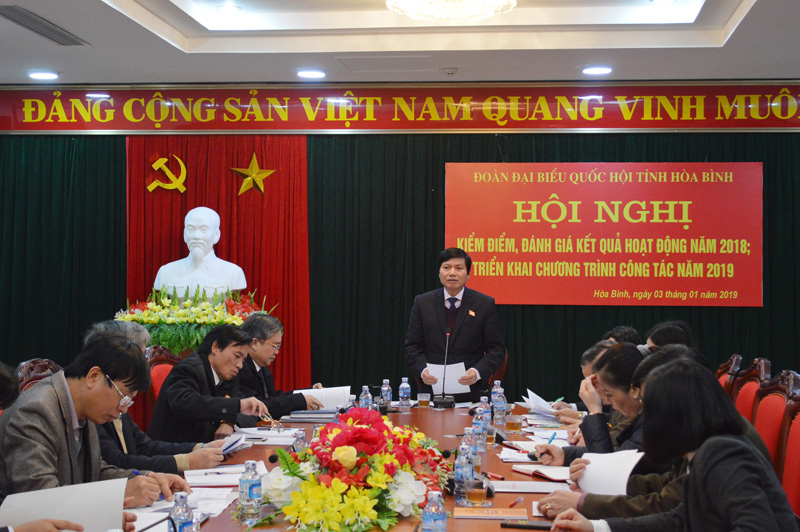 Tran Dang Ninh, Standing Deputy Secretary of the provincial Party Committee, Chairman of the Provincial People's Council and head of the provincial National Assembly deputies' delegation chairs the conference.
In 2018, the NA deputies of Hoa Binh province have united in their work with a high sense of responsibility to the voters and the people, focusing on activities to implement their duties as NA deputies in all fields.
Accordingly, in the area of law-making, the NA deputies actively engaged in studying draft laws, while gathering opinions of relevant agencies and people on the contents of the bills and resolutions in line with the NA sessions' agenda. At the 5th and 6th session of the 11th National Assembly, the province's NA deputies participated in the discussion of 30 bills and the voting to approve 16 bills and 14 resolutions. In 2018, the provincial NA deputies' delegation organised 15 surveys and supervisions as planned.
The delegation also coordinated with the provincial Vietnam Fatherland Front Committee to organise meetings with voters after the 4th NA session, as well as before and after the 5thand 6th sessions of the 14th National Assembly at 25 different places across the province. The delegation received 162 letters of complaints, denunciations and petitions. In many complicated and prolonged cases, the delegation carefully researched the situation and discussed with the specialized agencies of the province in order to propose appropriate solutions.
Regarding the working agenda in 2019, the delegation sketched out nine key issues, focusing on law building, and the coordination with relevant agencies in surveying, supervising, receiving, processing and settling complaints of citizens. An important issue is to make thorough preparations so that the deputies can actively and effectively participate in activities at the 7th and 8th sessions of the 14th National Assembly. In addition, the delegation also emphasized the need to reform voter meeting activities in a practical and effective manner.
Concluding the conference, Tran Dang Ninh, head of the provincial NA deputies' delegation asked the deputies to continue to study so as to contribute to the law-building work of the National Assembly, while strengthening coordination with relevant agencies. The deputies should continue to follow the settlement of prolonged problems of public concern and work with relevant ministries and agencies to speed up the settlement of them. They should also seek ways to improve the quality of voter meeting activities.