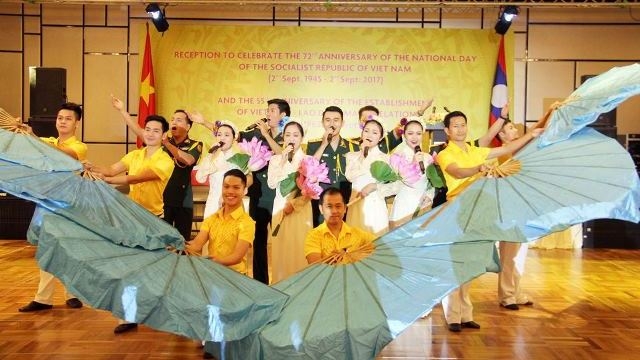 A music and dance performance at the banquet
The event was attended by Chansi Phosikham, head of the Lao People's Revolutionary Party's Organisation Commission and Vientiane Mayor Sinlavong Khoutphaythoune, alongside many other senior Lao officials.
The banquet also saw the attendance of foreign ambassadors in Vientiane, Vietnamese students in Laos and members of the Vietnamese community in Laos.
Speaking at the function, Vietnamese Ambassador to Laos Nguyen Ba Hung thanked the countries and international friends for always supporting Vietnam and the Vietnam-Laos relationship.
He affirmed that the special Vietnam-Laos relationship will make active contributions to maintaining peace, security, stability and cooperation for the development of Southeast Asia, the Asia-Pacific and the world at large.
For his part, Lao Foreign Minister Saleumxay Kommasith thanked Vietnam for giving Laos robust support in the past, as well as at present, adding that the friendship between Laos and Vietnam has been continuously strengthened over the years.
At the ceremony, there were also dance and music performances by Vietnam's Military Zone 7 Art Troupe, honouring the Vietnamese country and people, President Ho Chi Minh and the Vietnam-Laos solidarity.