Prime Minister Nguyen Xuan Phuc has said the border is sacred and inviolable, affirming that the Party and State always attach importance to and see border safeguarding as a critical, regular and survival task towards the stable and sustainable development of the country.
The Government leader made the statement while addressing the 60th anniversary of the traditional day of the Vietnam Border Guard (March 3, 1959-2019) and the 30th anniversary of the All People Border Defence Day (March 3, 1989-2019) on March 2.
The event was also attended by Tran Quoc Vuong, Politburo member and permanent member of the Party Central Committee's Secretariat; General Ngo Xuan Lich, Minister of Defence; Truong Thi Mai, Politburo member and head of the PCC's Mass Mobilisation Commission; Nguyen Van Binh, Politburo member and head of the PCC's Economic Commission; General To Lam, Minister of Public Security; Tran Thanh Man, President of the Vietnam Fatherland Front Central Committee, and General Do Ba Ty, Vice Chairman of the National Assembly.
In his speech, PM Phuc praised the efforts and exceptional achievements obtained by the border guard officers and soldiers in safeguarding the people and the country's borderline over the past 60 years.
He asked the force to continue implementing the border management and protection tasks in a synchronous, drastic and effective fashion, in addition to accelerating communication to raise public awareness of the safeguarding of national border, finalising mechanisms, policies and the legal system on the national border and the border guard force, improving training quality and researching the application of achievements of the Fourth Industrial Revolution in the management and defence of the national border.
The border guard force was also requested to strengthen international cooperation in the building, management and safeguarding of a borderline of peace, stability, friendship, cooperation, development, civilisation, modernity and solid defence, in addition to implementing defence and border guard diplomacy in a flexible, creative and effective manner in order to build a borderline of peace, friendship, cooperation and development with all neighbouring countries.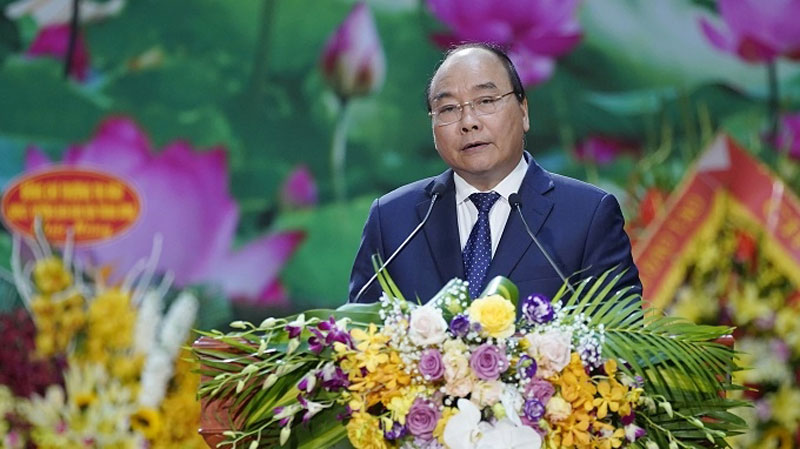 PM Nguyen Xuan Phuc speaks at the event.
The Prime Minister emphasised that building, managing and protecting the national border is the responsibility of the entire Party, people, army, sectors, levels, organisations and the whole political system.
He asked ministries, departments, organisations, Party committees at all levels, and local authorities to be deeply aware of the Party and State's standpoints and guidelines on border management and protection, thus providing consultations for the Party and State on appropriate policies to effectively handle situations arising at border areas.
On behalf of the Party and State, PM Phuc presented the first-class Military Exploit Order to the Vietnam Border Guard Force.