Bui Thanh Son, member of the Party Central Committee and Permanent Deputy Foreign Minister, paid a working visit to France from March 4 to 5, in the role of special envoy of Prime Minister Nguyen Xuan Phuc.
During his stay, Son and the Vietnamese delegation had meetings with Carole Bureau-Bonnard, Vice President of the National Assembly of France; Stephanie Do, head of the Vietnam-France Friendship Parliamentarians' Group; Emmanuel Lenain, Diplomatic Adviser to the French Prime Minister; Jean Baptiste Lemoyne, Secretary of State to the Minister of Europe and Foreign Affairs of France; and the Movement of the Enterprises of France (MEDEF).
Through the French side, the Vietnamese official extended PM Phuc's letter to his French counterpart Edouard Philippe, speaking highly of the fine development of the Vietnam-France strategic partnership and the exchange of delegations at all levels, especially high-level delegations, between the two countries in recent years, notably the official visit to France made by Party General Secretary and President Nguyen Phu Trong and the visit to Vietnam by French PM Edouard Philippe in 2018, as well as high-level visits to be made in 2019.
Regarding the Vietnam-European Union (EU) relations, Son emphasised the benefits of the Vietnam-EU Free Trade Agreement (EVFTA) and the EU-Vietnam Investment Protection Agreement (IPA) in strengthening economic, trade and investment cooperation between the two sides, stating that these agreements would contribute to facilitating the EU's connection with the Asia-Pacific region, including the member states of the Association of Southeast Asian Nations (ASEAN).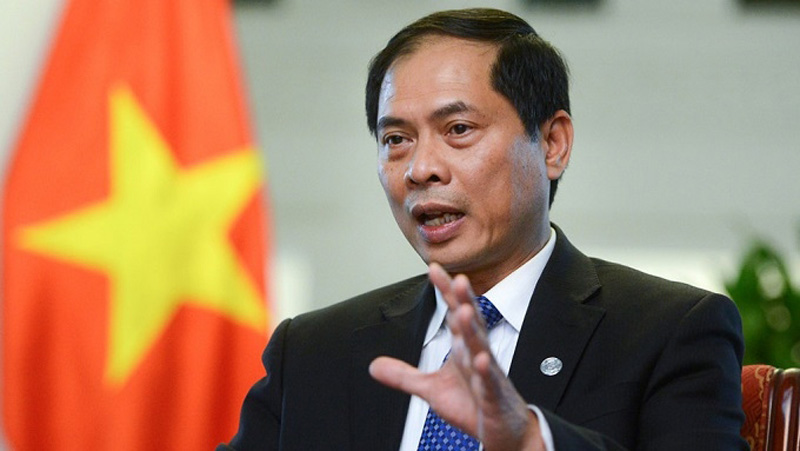 Permanent Deputy Foreign Minister Bui Thanh Son
He expressed his gratitude for France's support for the all-around development of the Vietnam-EU ties, asking France and the EU's bodies to promote the early signing and ratification of the EVFTA and IPA during the current term of the European Parliament (EP) in order to quickly realise the benefits that the agreements could bring.
Leaders of agencies of the French government and parliament expressed their impression on Vietnam's achievements in economic growth and integration, as well as the country's foreign position in recent years, emphasising that Vietnam is an important partner of France in the Asia-Pacific region.
They voiced their wish to continue strengthening the bilateral cooperation across various areas, while agreeing to work closely with the Vietnamese side to thoroughly prepare for the visits of the two countries' senior leaders in 2019.
The French side evaluated that the EVFTA would create a framework for the acceleration of economic and trade cooperation between Vietnam and the EU. They agreed on the need to promptly sign and ratify the agreement, adding that France will actively coordinate with the EU member countries to facilitate this process.
Representatives of French businesses expressed their interest in investment and business opportunities between Vietnam and the EU brought by the EVFTA, and affirmed that they would continue to recommend the French government to soon sign and ratify the deal.