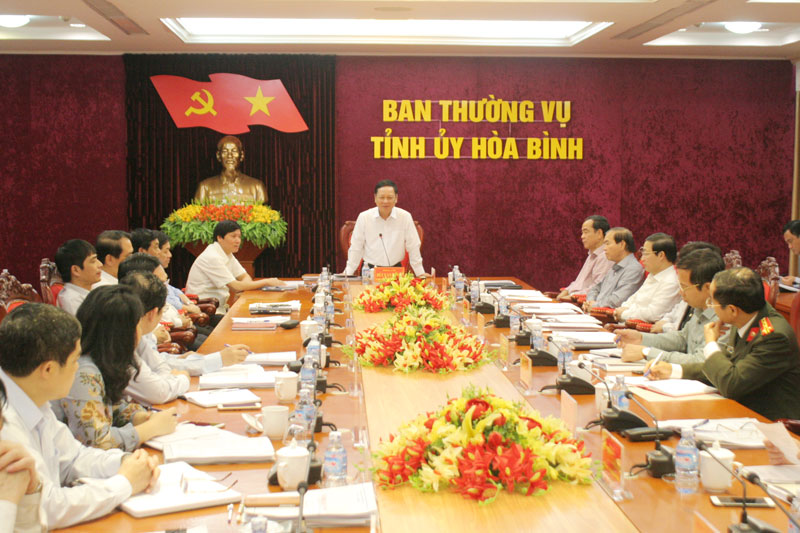 HBO - The Standing Board of the Party Committee of Hoa Binh province held a conference to review leadership tasks in the first quarter of the year and launch key tasks in the following quarter, while considering some other significant contents.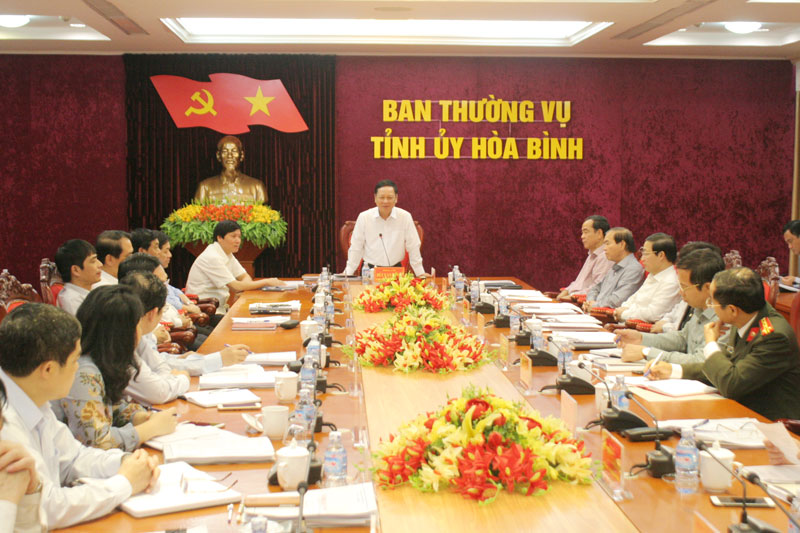 Bui Van Tinh, member of the Party Central Committee and Secretary of Hoa Binh's Party Committee, delivers closing remarks at the event.
Hoa Binh province has reaped various positive outcomes in the quarter. Party and front building, along with political and social organisations of the province have recorded practical and effective changes. Gross Regional Domestic Product is estimated to stand at 8.63 percent, with economic transition going on the right direction.
State budget collection is expected to total 838 billion VND (36.55 million USD) in the period, equivalent to 22 percent of the provincial Party Committee's Resolution. The province's budget collection is likely to reach 2.55 trillion VND (110.04 million USD), while spending is estimated at nearly 2.26 trillion VND (97.53 million USD).
In addition, agro-forestry-fishery production maintained above-average growth, raking in over 2.13 trillion VND in values. Industrial production hit 8.68 trillion VND, an increase of 17.5 percent year-on-year. The province is projected to earn 168.8 million USD from export, up 17.4 percent against the same previous last year.
Administrative reform and investment climate have also seen improvements, as well as work on cultural, social, healthcare and education affairs. Due attention has been paid to resources management and environmental protection. National defence and security have been maintained, while external activities have been enhanced.
Underlining the significance of 2019, the provincial Party Committee Secretary instructed local authorities, the provincial Vietnam Fatherland Front chapter and organisations to strengthen their political determination and make changes in their mindset and actions. They were asked to implement measures to surmount weaknesses and limitations, thereby realising socio-economic targets in the year as well as unfulfilled ones in the provincial Party Committee's Resolution.
Members of the provincial Party Committee and People's Committee should devise a scenario for 2019 growth, striving to exceed targets in the provinces' Resolution in a creative manner, in line with decentralization towards efficiency of all resources.
Notably, they need to pay attention to land resources to seek new finances for budget collection and mobilise infrastructure investment, thus creating a driving force for development.
Local authorities were also tasked with streamlining organisational structure effectively and merging villages, hamlets and residential clusters alongside with improving the quality of public servants.