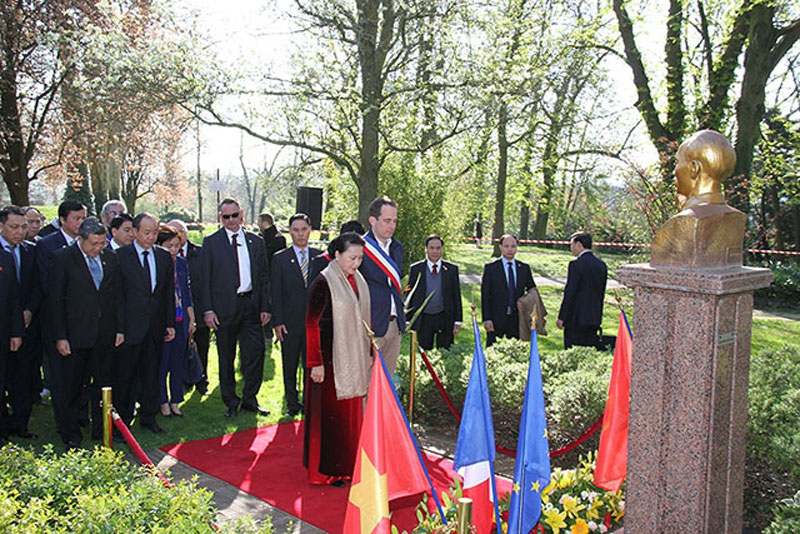 During her official visit to France, National Assembly (NA) Chairwoman Nguyen Thi Kim Ngan and the Vietnamese NA delegation on March 31st laid a wreath and paid homage at President Ho Chi Minh statue, planted a tree and visited Ho Chi Minh space at Montreau park in Montreuil city.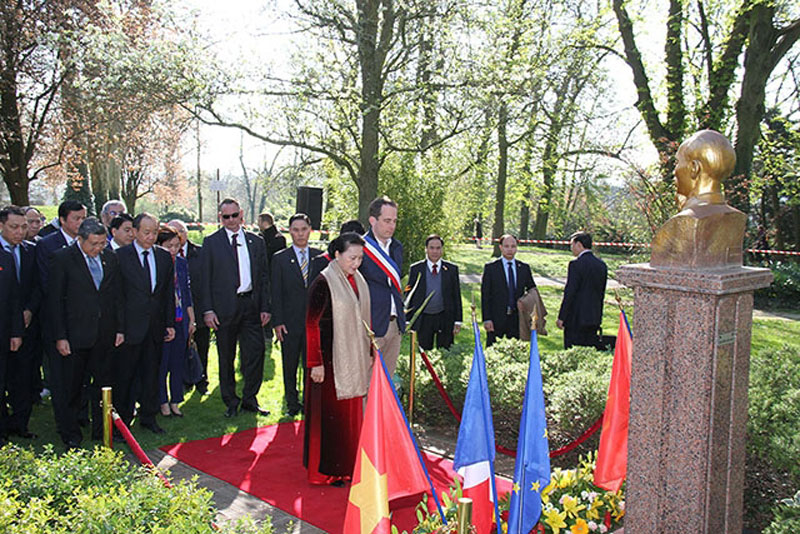 NA Chairwoman Nguyen Thi Kim Ngan, Vietnamese NA delegation and Montreuil city leaders lay a wreath at President Ho Chi Minh statue.

In her autograph book, she wrote that the delegation was moved to tears feeling Uncle Ho's hardships during his national salvation process, and expressed thanks to Montreuil city for setting up space for preserving Uncle Ho's documents and exhibits.
Inaugurated on May 19th, 2000, to mark Uncle Ho's 110 birthday, the space has become a diplomatic sightseeing location. From July 14th, 1921, to June 1923, President Ho Chi Minh lived and worked as a photographer under the name Nguyen Ai Quoc at No. 9 Compoint alley in Paris' district 9. In 1987, when the house where President Ho Chi Minh lived was removed, the Vietnamese Embassy in France suggested Montreuil city keep exhibits of President Ho Chi Minh. In 1988, the exhibits were re-collected and on show until 1995 at the Museum of Contemporary History.
Re-built in 2000, the room exhibits many precious remembrances about Uncle Ho, including the door and plate for house No. 9, basin, photographic card, and the card as a member of the French Communist Party. On the wall leading to the room hangs photos, some front pages of newspapers and Uncle Ho's letters to members of the French Communist Party such as Jacques Duclos, Maurice Thorez and Etienne Fajon. In the autograph book, visitors wrote in different languages.
The sacred exhibits and images about President Ho Chi Minh, a national liberation hero and a world cultural celebrity, respectfully kept at Ho Chi Minh Space, highlight a period in his life of revolution, encouraging generations to act for solidarity, friendship and cooperation among nations; for happiness, peace, national independence, democracy, sustainable development and social progress in the world.
Source: DCS