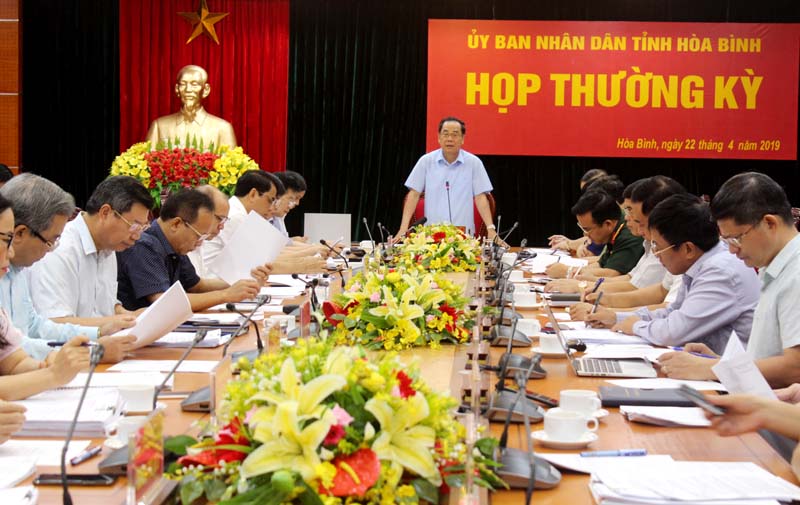 (HBO) – Deputy Secretary of the provincial Party Committee and Chairman of the People's Committee of Hoa Binh Nguyen Van Quang on April 22 chaired a regular meeting to review and evaluate the People's Committee's operational performance in the first quarter of 2019, and launch tasks for the second quarter.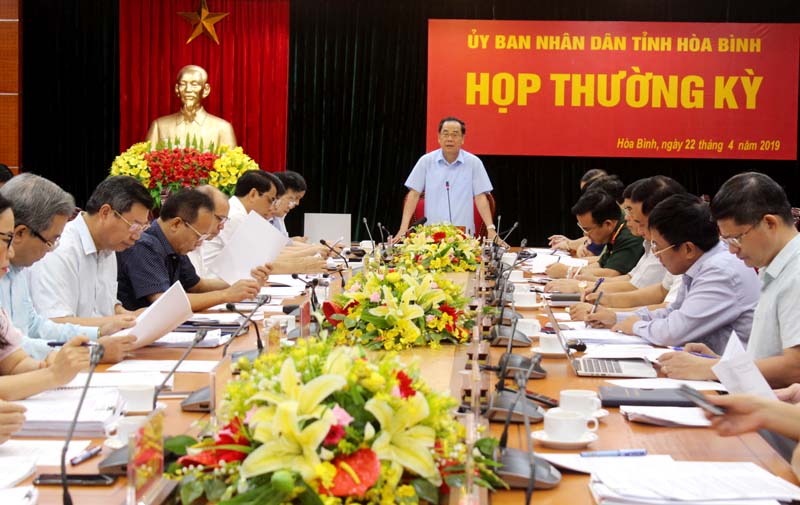 Nguyen Van Quang, Deputy Secretary of the provincial Party Committee and Chairman of the People's Committee of Hoa Binh concludes the meeting.
In the first quarter, with the efforts of the whole political system, local people and enterprises, the socio-economic situation of the province saw positive progress, with good growth seen in a number of areas.
The province's gross regional domestic product (GRDP) growth was estimated at 8.63 percent, while agro-forestry-fishery production reached over 2.13 trillion VND, and industrial production hit 8.68 trillion VND, up 17.46 percent year on year and equivalent to 23.21 percent of the yearly target.
Hoa Binh's export revenue was estimated at 168.509 million USD, up 17.43 percent over the same time last year and completing 21.33 percent of the yearly target. The locality imported 134.57 million USD worth of goods in the period, a rise of 23.46 percent against the same period last year, equivalent to 21.19 percent of the goal for the whole year.
Total State budget collection of the locality was 838 billion VND, equivalent to 27 percent of the task assigned by the Government for the year and 22 percent of the goal set in the provincial People's Council's resolution.
In the first quarter, the province licensed 14 domestic-funded projects worth 1.57 trillion VND. As many as 100 new firms were established with a combined capital of 3 trillion VND. Cultural and social areas also saw progress, the living conditions of locals were improved, while political security and social order and safety were ensured.
Concluding the meeting, Quang stressed that with the whole province's efforts, the provincial competitiveness index (PCI) of Hoa Binh in 2018 rose four positions. In order to continue the success, he underscored that in the second quarter, departments and sectors should focus on realizing a plan to improve PCI. Local departments and sectors should coordinate closely with each other to fulfill the set socio-economic tasks, he asked./.