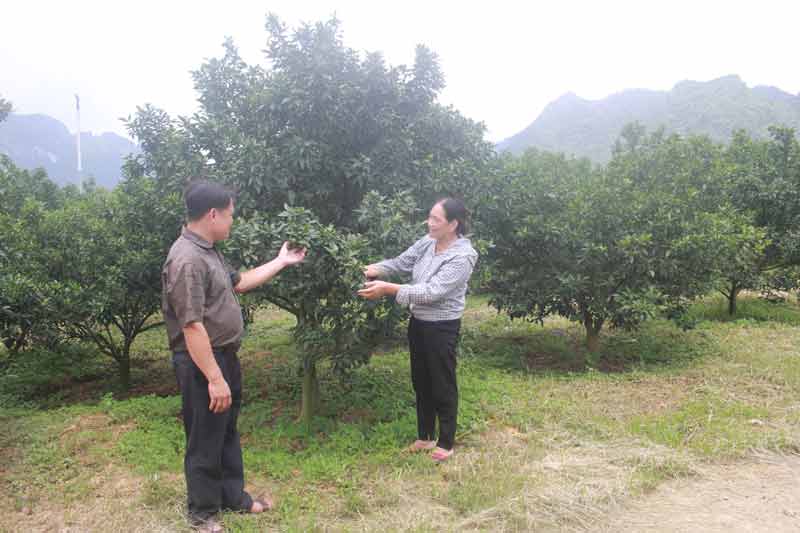 (HBO) – The Party Committee of Lien Hoa commune, Lac Thuy district, northwestern Hoa Binh province, is focusing on helping locals develop economy and improve living standards. Based on the natural conditions, the communal authorities have encouraged people to actively shift to growing citrus fruits with high economic value, especially oranges.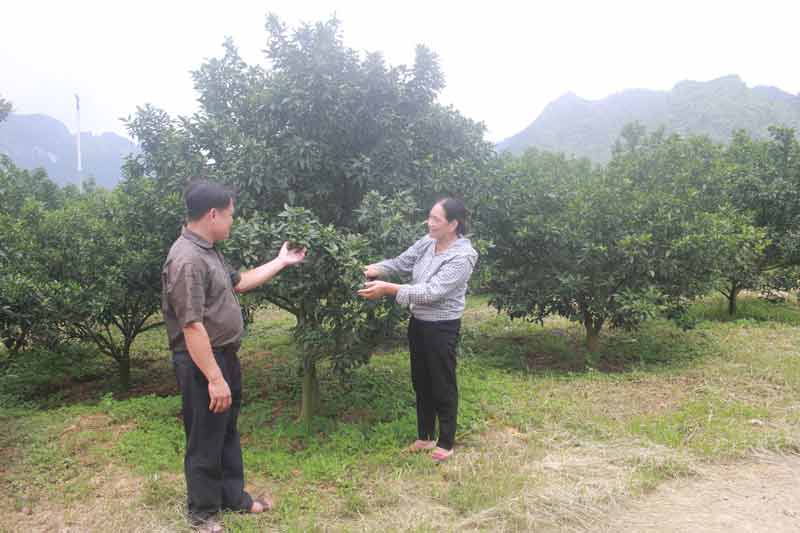 The six-hectare orange and grapefruit garden of family of Ms. Do Thi Thuong (R), head of Dong Huong hamlet, Lien Hoa commune (Lac Thuy), Party member pioneering in changing of local crops for stable income.
The commune has four hamlets, 450 households, and 1,830 people. Previously, its economy mainly came from forestry with the dominance of acacia trees. However, due to low economic efficiency, the communal authorities had a policy of encouraging people to convert the ineffective acacia growing area to citrus including orange and grapefruit. As a result, the area under citrus has trees strongly increased to 220 hectares at present from 60 hectares in 2014, including 200 hectares of oranges and 24.5 hectares of grapefruits.
Mr. Bui The Thao, permanent vice secretary of the Party Committee of Lien Hoa commune, said a symposium is held annually to put forth long-term solutions to developing citrus fruits in the locality, especially oranges. Party members are encouraged to promote their pioneering role in the field. Ms. Do Thi Thuong, head of Dong Huong commune, is one of the active members.
Lac Thuy orange brand was recognised in 2017 and Lien Hoa is one of the largest producers. Lac Thuy orange is characterized with thin and shiny skin, big seeds, fragrant, sweet and succulent taste. Orange products are sold to other localities such as Ha Nam, Ninh Binh, Thanh Hoa and Hanoi. Thanks to this fruit, the average per capita income of Lien Hoa commune has increased to 35.2 million VND (1,513 USD) per year, and the rate of poor households has been reduced to 6.6 percent./.