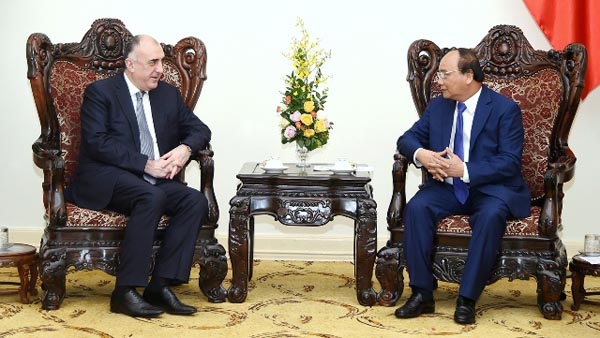 PM Nguyen Xuan Phuc receives visiting Azerbaijani FM Elmar Mammadyarov in Hanoi on September 13. (Credit: VGP)
PM Phuc lauded the positive outcomes of the earlier talks between Minister Mammadyarov and Deputy Prime Minister, Foreign Minister Pham Binh Minh, particularly measures to boost the bilateral relationship.
The Azerbaijani Minister's visit will open up a new chapter for cooperative ties in different fields between Vietnam and Azerbaijan, he said.
Having expressed his satisfaction about good political ties, PM Phuc said economic and trade relations remain modest, failing to meet expectations of both sides.
The two sides need to review their regulations and policies to remove difficulties and facilitate trade and investment ties, the PM said, underlining the important role of enterprises in the field.
The PM suggested the two sides continue exchanging delegations at all levels while maintaining and promoting the Inter-Governmental Committee for Economic-Commercial and Scientific-Technological Cooperation, saying that this cooperation mechanism is expected to help identify and promote cooperation in the fields of their forte, including energy, tourism, education and culture.
Vietnam is willing to export its key products to Azerbaijan, such as agricultural and aquatic products, computers and components, and import machines, equipment and spare parts, crude oil, and crud oil-based products from the country, he said.
For his part, Mammadyarov said the results of the talks with Deputy PM, Foreign Minister Pham Binh Minh and his working session with Minister of Industry and Trade Tran Tuan Anh showed that the two nations have been on the right track to enhance cooperative ties.
Highlighting the successful cooperation in the oil and gas sector, he said Azerbaijan will make greater efforts to boost cooperation with Vietnam in traditional fields and other potential spheres.
PM Phuc acknowledged the guest's idea on a new sea shipping route, pledging that he will assign relevant agencies to study to the proposal soon.