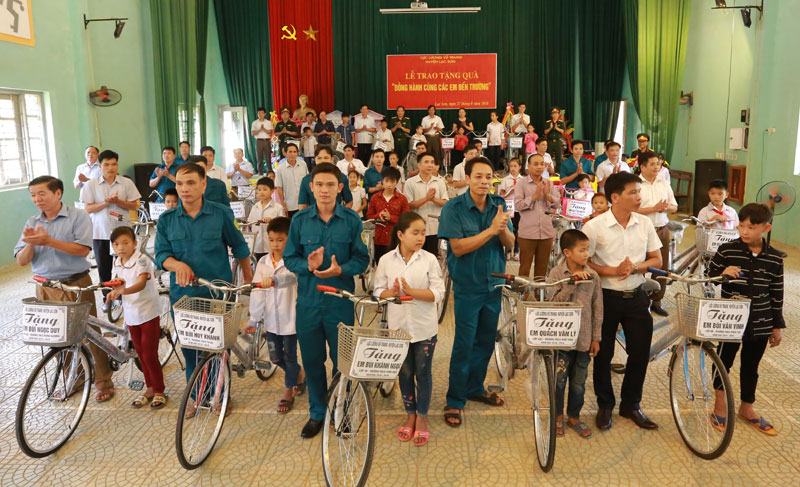 (HBO) - Lac Son district has 59 Party grassroots organizations, over 7,000 party members. Lac Son district determines the implementation of Directive No. 05 on promoting studying and following Ho Chi Minh's thought, morality and style is an important solution in Party building. This is also an essential, necessary and regular task for every Party organization, agency, unit, cadre, party member and people in the district.
With that view, the District Party Committee has issued documents to direct and guide Party committees and organizations at all levels in the district in implementing the Directive No. 05.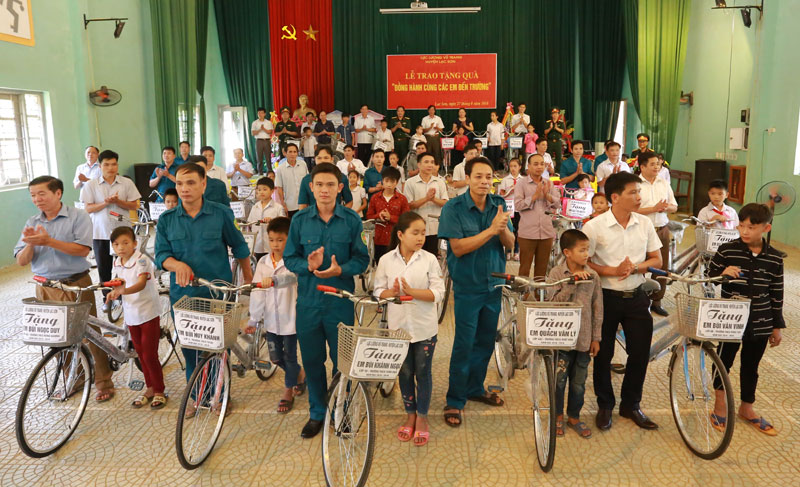 The Military Command of Lac Son district donated bicycles to poor students in the district.
Every year, the district has more than 6,000 party members to build personal plans to study and follow Ho Chi Minh's thought, morals and style. All 198 agencies, units, schools and health stations in the district reviewed and supplemented the contents according to Ho Chi Minh's thought, moral and style to the standard table.
Mr. Bui Van Mia, Head of District Committee for Propaganda and Education assessed: The implementation of Directive No. 05 received the consensus of officials, party members and people. Directive No. 05 has been going into life, appearing many advanced examples, good jobs.
The Military Command Committee of Lac Son district supports and sponsors children in especially difficult circumstances. Annually sponsoring 3 pupils, support 200,000 VND per month per pupils until they finish high school. The police mobilized officials and soldiers to save 2 breakfasts per month to buy 6 cows to give poor family. Compassionate Bracelet Club in Vu Ban town donates to cook rice and porridge for poor patients who treated at the District Health Center...
Many individuals contribute practically to the new rural construction program through donating land to build roads, supporting money to build cultural houses such as Mr. Tran Ngoc Son, Bui Minh Khuyen in Xuat Hoa commune. Model of breeding, hatching chickens of Bui Van Hue union members in Chi Thien commune...
The implementation of Directive No. 05 contributes to building and strengthening the foundation of social morality according to Uncle Ho's example, morality and style; making important contributions to socio-economic development, ensuring national defense and security, building a strong Party and political system of the district.