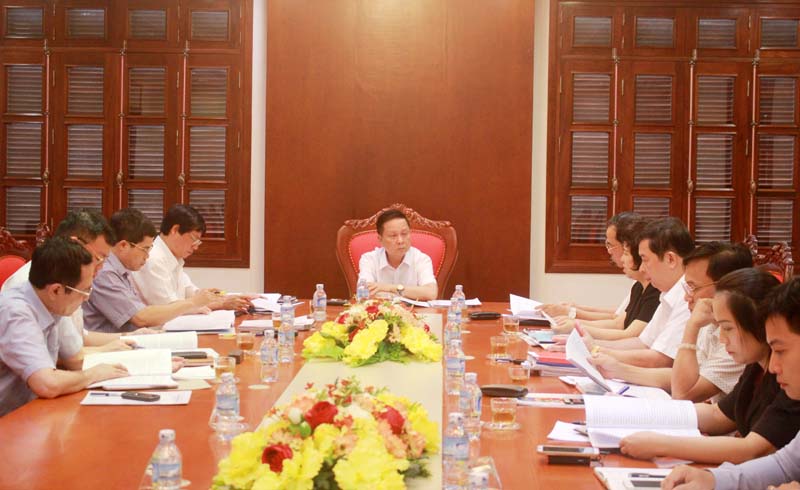 (HBO) – The Standing Board of the Party Committee of Hoa Binh province had a working session with the provincial Vietnam Fatherland Front (VFF) Committee on the preparations for the 15th congress of the provincial VFF for the 2019-2024 tenure. The session was chaired by Bui Van Tinh, member of the Party Central Committee and Secretary of the provincial Party Committee.
At the session, participants gave their opinions on major issues such as the planned agenda of the congress; the draft report for the 2014-2019 tenure and the action plan for the 2019-2024 tenure; a report reviewing the operation of the provincial 14th VFF Committee and VFF Committee's Standing Board in the 2019-2024 tenure; a proposal on the building of the 15th VFF Committee's Standing Board in the 2019-2024 tenure; and a proposal to send delegates to the 9th VFF National Congress, the 2019-2024 tenure.
The 15th provincial VFF Congress is scheduled to take place in July 2019. It will focus on the promotion of the national great solidarity bloc, the VFF's role in representing and protecting the legitimate rights and interest of the people, as well as the strengthening of VFF's social supervision and criticism, the optimising of democracy, concensus, anf VFF reform and efficiency for the sustainable growth of Hoa Binh.
With the spirit of "Solidarity – Democracy – Efficiency", the congress will summarise and evaluate the implementation of the resolution released at the previous provincial VFF congress, while building an action programme for the 2019-2024 tenure. Participants will discuss the sending of delegates to the 9thVFF National Congress./.