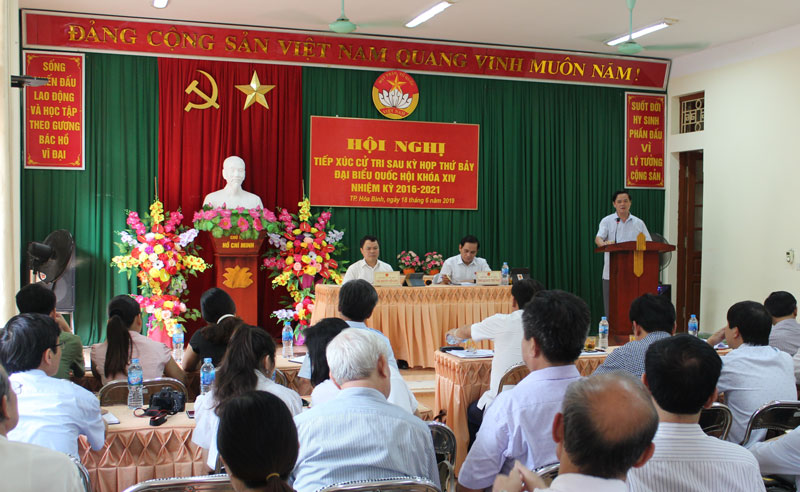 (HBO) - A delegation of National Assembly deputies of the north-western province of Hoa Binh met with voters in Hoa Binh city on June 18.
The delegation included Nguyen Tien Sinh, vice head of the provincial NA deputy delegation and member of the NA's Committee for Judicial Affairs; and Quach The Tan, Vice President of the Vietnam Association for Promoting Education (VAPE), President of the provincial study encouragement society, and member of the NA's Committee for Culture, Education, Adolescents, and Children.
At the meeting, Tan informed the local voters of important contents and outcomes of the seventh session of the 14th NA.
Voters spoke highly of the contents that were tabled for discussions and approved in the session. They also gave opinions about the re-organisation of administrative units at district and communal levels in the 2019-2021 period.
Additionally, constituents asked authorities to adjust non-agricultural land tax, raise pensions for retirees, and devise and take effective measures to treat plastic waste and nylon bags as they have caused increasingly severe environmental pollution.
They proposed the Government to continue applying support policies for people who had moved from the Da reservoir area, investing in entertainment facilities for children, tightening urban management, along with handling officials who manipulated local students' results in the National High School Exam last year.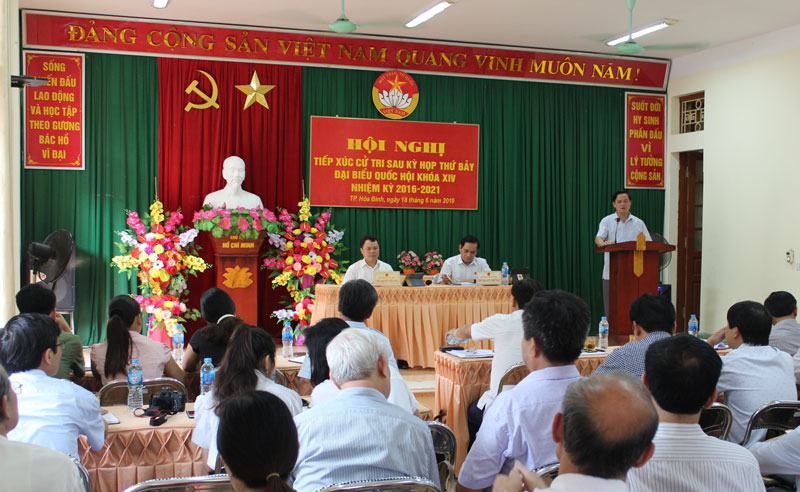 A representative of Hoa Binh city's administration clears up voters' queries.
At the meeting, leaders of relevant agencies and the municipal Party Committee acquired voters' suggestions and cleared up their questions. For petitions beyond the jurisdiction of the provincial authorities, the NA deputies took notes of the ideas to submit to ministries and sector for consideration and settlement./.