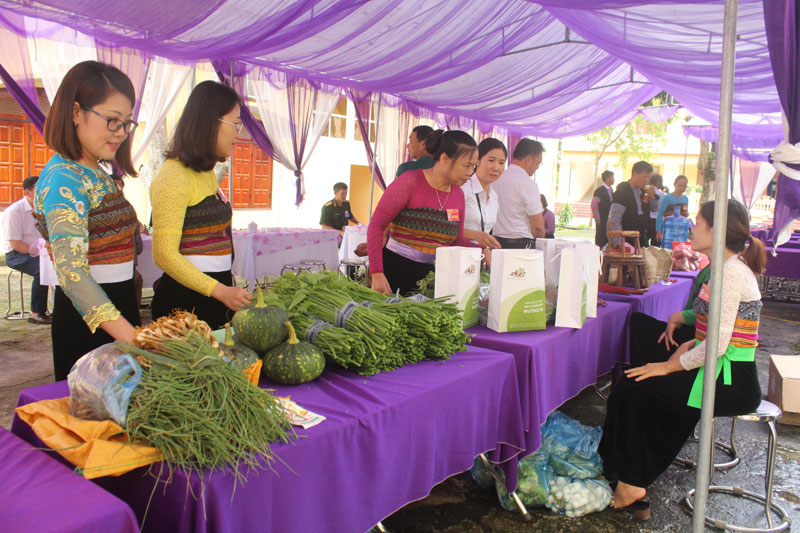 (HBO) - Mai Chau district has 10 communes of region III and 7 particularly difficult hamlets in the communes of region II, which are invested under the Program 135. In the district, there are 6 ethnic minorities, occupying 88.04% of the total district's population, of which Thai ethnic people accounts for 65.14%, Muong ethnic people accounts for 19.68%, Mong ethnic people accounts for 11.16%, the rest are the Dao, Tay and Hoa ethnic people.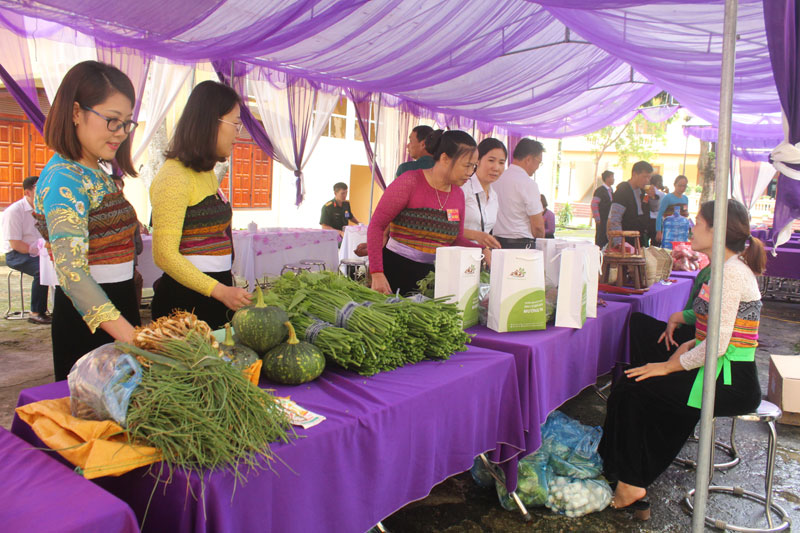 The farmers in Bao La commune are introducing the agricultural products at the 3rd Ethnic Minority Congress – 2019 of the district.
With the characteristics of the highland district with multi-ethnic people, implementing the ethnic policy, strengthening and lighting up the belief for the ethnic minority people in the leadership of the Party and the State are always identified as a key task by the district,
In the period of 2014 - 2019, implementing the national target program on sustainable poverty reduction, the district has invested in building 104 infrastructure works on traffic, irrigation, markets, living water, educational and cultural projects in communes, hamlets, villages in particularly difficult circumstances with a total cost of 48,351 million VND. At the same time, the maintenance of many works after investment, the damaged and degraded works has been implemented. The works have brought the practical effectiveness, helping to strengthen the essential infrastructure system of the areas of the ethnic minority, creating conditions to promote the socio-economic development and improving the material and spiritual life of the people.
In addition, the district has invested and supported over 11,675 million VND for 6,623 turns of poor and poverty threshold households in the communes, hamlets and villages benefiting from the support of domestic animals, buying cage fish breeding, buying forest seedlings and supporting machinery for production and so on.
In the past 5 years, Mai Chau district has been interested in implementing the policies to support the residential land, the productive land and living water for ethnic minority households and poor households in specially difficult areas.
From the program and project implementing the ethnic policies have been promoting the reform of the rural face, helping the ethnic minority people in Mai Chau district the access to the advances to change the awareness, the thoughts, the ways of doing and trying to unite the great unity of the nations.
In 2018, the average income of the district reached over 27.2 million VND a person, increasing 89.2% compared to 2014. The poverty rate decreased from 24.11% (in 2015) to 18.64%. Currently, there are roads connecting to the centre in 100% of the communes. 99.2% of the hamlets and villages have roads connecting to the villages. 99.89% of the households have been using the national grid and 98.3% of the households have been using clean water.