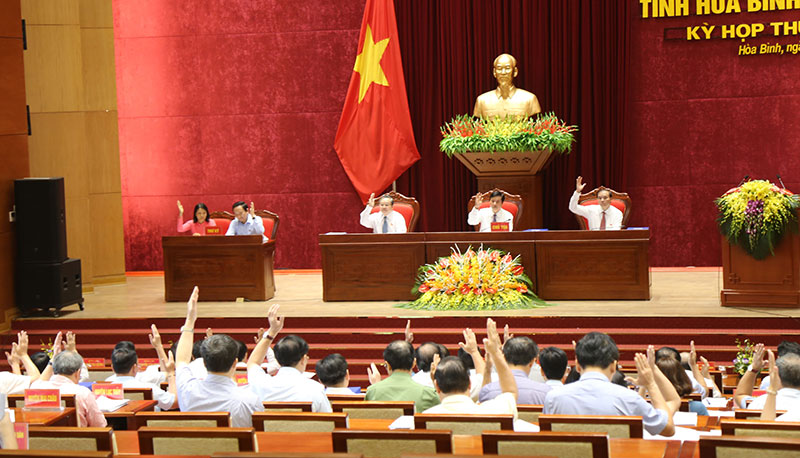 (HBO) – The 9th session of the 16th People's Council of Hoa Binh province successfully completed its agenda after three working days.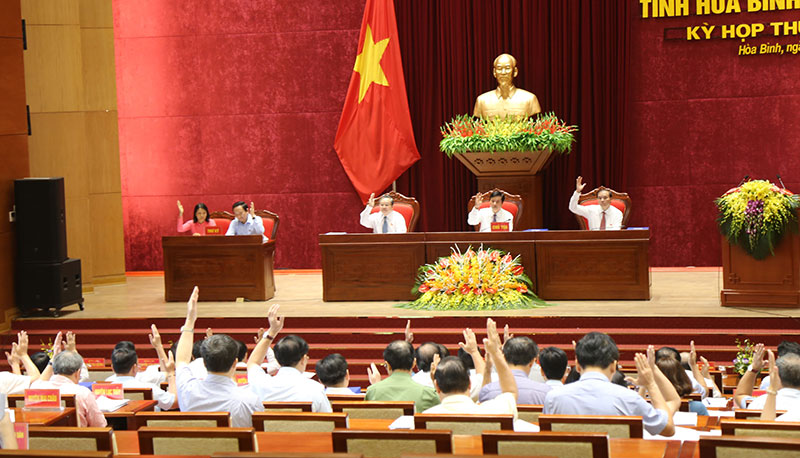 Delegates vote to adopt resolutions submitted at the 9th session of the 16th provincial People's Council of the 2016-2021 tenure.
The session adopted 27 resolutions to institutionalise the Party's policies, State's regulations, and the provincial Party Committee's policies so as to promote the local socio-economic development.
The noticeable adopted documents were a resolution approving a list of projects on commercial housing investment in the province, a resolution on recognising Luong Son town and expanded Luong Son area to meet criteria of a 4th-tier urban area, a resolution on land reclaiming for socio-economic development, a resolution on a plan to use state capital for the 2016-2020 period and the year 2019, a resolution on adjusting the investment plan for construction of a road connecting National Highway No.6 with Chi Lang road, and a resolution on the investment plan for Lac Thuy tourism site, among others.
Earlier, delegates discussed and voiced various opinions on the socio-economic report, draft documents and resolutions submitted at the session. They basically agreed with the reports and draft resolutions, while raising a wide range of issues which have drawn interests of voters.
Six leaders of the provincial People's Committee, departments and sectors were grilled at the Q&A session, which was held following the discussion session. They responded to 12 questions raised by eight delegates.