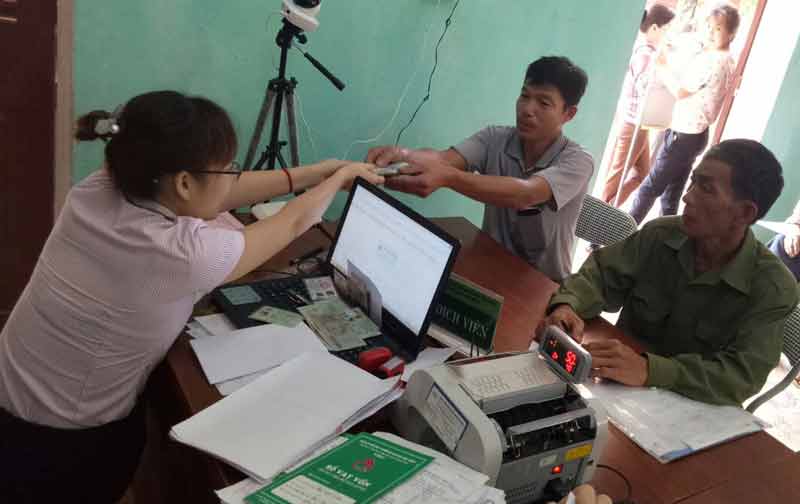 (HBO) - From the emulating movement of the people's satisfaction, after nearly 10 years of implementing the program of building the new rural, the combined strength of the whole political system has been mobilized. In the period of 2011-2019, province has mobilized people to contribute over 2,288 billion VND, donating over 970,300 m2 of land, the contribution of materials and machinery converted in cash was 2,132.7 billion VND and the capital mobilized from other sources was about 52.34 billion VND.
Mobilizing people's force to build new rural areas
The people in Truong Son village, Ngoc Luong commune (Yen Thuy) have been carrying out the movement of the clean houses and the beautiful gardens to complete the improved criteria for the new rural areas as soon as possible.
By the end of June 2019, there have been 63 communes in the whole province reaching 19 criteria, 20 communes achieving from 15 to 18 criteria; 65 communes achieving from 10 to 14 criteria, 43 communes reaching from 8 to 9 criteria. There are no communes achieving below 8 criteria. In particular, Hoa Binh City has been recognized to complete the task of building the new rural areas in 2018 (2 years ahead of the plan) by the Prime Minister.
joining hands for the poor, leaving no one left behind
Implementing the emulating movement "The whole country has joined hands for the poor-leaving no one left behind" launched by the Prime Minister, from 2016 to the end of May 2019, there have been nearly 4,000 poor households in the whole province allowing to get loans to support new building new houses, repairing and upgrading houses. They have been granting the health insurance cards to more than 1,389,440 poor people and the ethnic minorities living in particularly difficult areas, people living in extremely difficult areas and poverty threshold people, the social protection beneficiaries and some others with a total budget of about 744,865 million VND. The State budget has supported 3,128 million VND for the fund of the health examination and treatment for the poor in the province. Additionally, the province has implemented 20 preferential credit programs, helping more than 124,700 borrowers.
The enterprises with the integration and development
Over the past years, the emulating movement "Vietnam enterprises with the integration and development" launched by the Prime Minister has created an exciting emulating atmosphere, attracting a lot of businesses and cooperatives in the province to respond.
Up to now, there have had 568 projects in the province, including 39 projects having the direct foreign investment with the total registered capital of 634.52 million USD and 529 domestic projects with the total registered investment capital of 69,488.2 billion dongs. Regarding the enterprise development, by the middle of June 2019, there have been 2,773 enterprises operating with a total registered capital of VND 36,000 billion dongs in the whole province.