(HBO) - Lieutenant Colonel Bui Thanh Phuc, head of the police of Ky Son district said studying and following late President Ho Chi Minh's exemplary morals is a regular work of each personnel, with 100 percent of the unit's staff building their annual personal plans on the implementation of the Poliburo's Directive No 05. Based on the local actual situation, the Ky Son police have built and implemented several good models and practices, particularly in mass mobilisation movements, thus fulfilling its mission and building the image of police officers dedicated to the country and people.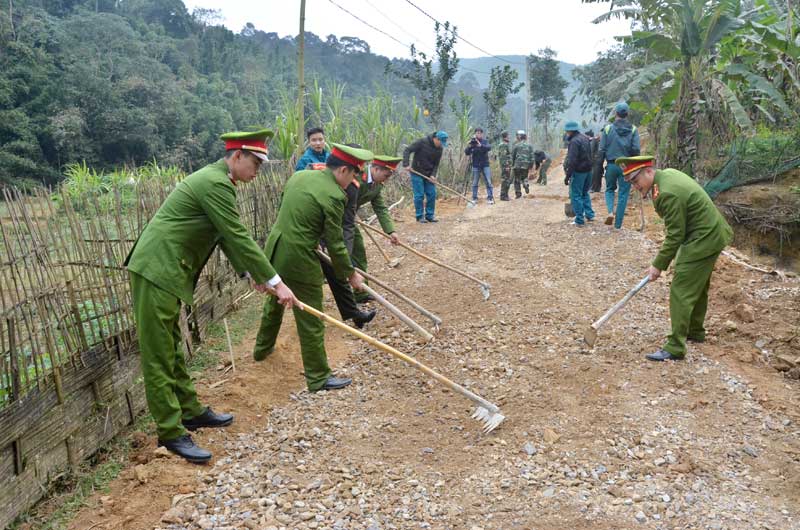 Ky Son police help residents in Can village, Doc Lap commune, build rural roads.
In 2018, Ky Son police recorded good performance in crime prevention, detection and combat, with the general rate on investigation and detection of criminal cases reaching 80.9 percent, exceeding the assigned target of 77 percent. It also helped the building of two concrete yards worth 160 million VND; upgraded 3,000m of rural roads in Doc Lap commune; and presented gifts worth 1.2 million VND each to 10 disadvantaged households. Notably, they assisted two disadvantaged children's learning by giving each 500,000 VND on a monthly basis.
This year, the Ky Son police continue raising donations among their personnel to support residents in the district's residential area 4 in building a cement yard worth 30 million VND and to keep sponsoring the two children.
The Ky Son police plan to further boosting communications work within the unit and proactively carrying out measures to crackdown on crime, ensuring the local order and security. Charity programmes targeting policy beneficiaries and vulnerable groups are also the unit's priority./.